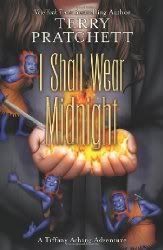 Title
:
I Shall Wear Midnight
Series
: Tiffany Aching
Author
: Terry Pratchett
Copyright
: 2010
Pages
: 368
ISBN
: 9780061433047
Publisher
:
HarperCollins
Author Website
:
www.terrypratchettbooks.com
Twitter
: @harpercollins
Format
: Hardcover
Rating
: 5/5 stars
From Amazon:
It starts with whispers.

Then someone picks up a stone.

Finally, the fires begin.

When people turn on witches, the innocents suffer. . . .

Tiffany Aching has spent years studying with senior witches, and now she is on her own. As the witch of the Chalk, she performs the bits of witchcraft that aren't sparkly, aren't fun, don't involve any kind of wand, and that people seldom ever hear about: She does the unglamorous work of caring for the needy.

But someone—or something—is igniting fear, inculcating dark thoughts and angry murmurs against witches. Aided by her tiny blue allies, the Wee Free Men, Tiffany must find the source of this unrest and defeat the evil at its root—before it takes her life. Because if Tiffany falls, the whole Chalk falls with her.

Chilling drama combines with laughout-loud humor and searing insight as beloved and bestselling author Terry Pratchett tells the high-stakes story of a young witch who stands in the gap between good and evil.
I love you, Sir Terry Pratchett. You really are a knight in shining armor, who has rescued me from the clutches of literary despair and given me joy, humor, developed characters and all sorts of other bookish delights. I sorrow to think that some day you will have to stop writing. 'Til then, I beg you, write on!
Okay, so maybe I should make a few serious comments about this book. This YA fantasy novel is the fourth (and, I believe, final) installment in the Tiffany Aching series, which is a sub-series of the Discworld novels (the many-tomed, decades-old paragon of humorous fantasy) but can be read on its own (though it helps if you have read a couple of the witch-oriented Discworld books, such as
Equal Rites
and
Wyrd Sisters
if you want to get most of the jokes). Tiffany is now 16 and a full-fledged witch, though (as always) there are a few problems that go along with that. Most of the problems are caused by the Nac Mac Feegles, tiny blue men who are the unqualified hilarity of the series.
Frankly, I think that the Tiffany Aching books are the best of Pratchett's prolific career and, though not perfect (the Cunning Man is not Pratchett's best villain), this last volume more than lives up to the standards of the series.
The first book of the series,
The Wee Free Men
, is a laugh-yourself-silly, startle-the-dog, practically-pee-yourself sort of book, but the succeeding volumes in the series have gotten progressively more emotional, balancing the humor with a little more heart. This final volume, one may logically expect, has tipped the scales somewhat, dealing more in heart (and matters therein) than in humor, but there are still plenty of chuckle-and-guffaw-worthy moments here. The great thing about this book, however, is the emotion. Our dear Sir Terry has delivered a teen novel that does in fact include (gasp!) romance, without going all snivelly and smushy on us. Never the less, one finishes the book with a distinctly warm (and I could also be detecting some fuzzy) feeling, one that lasts far after the book is closed. (Warning: reading this book may cause you to hug your spouse/domestic partner with significant enthusiasm.)
I cannot be more specific without taking away some of the joy that comes from discovering these books, but if you have not encountered them before -- READ THEM. You will not regret it. If you are familiar already, READ THEM AGAIN. You won't regret it either, and you know exactly what I am talking about.