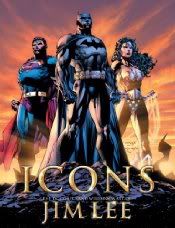 Title
:
Icons: The DC Comics and Wildstorm Art of Jim Lee
Authors
: Jim Lee & Bill Baker
Copyright
: 2010
Pages
: 296
ISBN
: 9781845765194
Publisher
:
Titan Books
Author Website
:
www.jimlee00.deviantart.com
Twitter
: @jimlee00
Format
: Hardcover
Rating
: 5/5 stars
Finished
: 1-1-11
From Amazon:
One of the most successful and popular artists to work in comics, Jim Lee is revered by fans worldwide thanks to his hyper-dynamic artwork and innovative character and costume design.

Now, his work on Batman and Superman — not to mention his legion of WildStorm heroes including WildC.A.T.s, Divine Right and Deathblow — is celebrated in this beautiful hardback, which includes an exclusive interview with Jim Lee, a tour of his studio and hundreds of full-colour illustrations and pencils spanning his entire career!

Plus an all-new cover by Lee and an exclusive, all-new eight-page comic strip, written by Paul Levitz (Legion of Super-Heroes) with art by Lee!
A fantastic retrospective on arguably my favorite artist out there, Jim Lee,
Icons
is a beautifully presented volume covering Lee's time with Wildstorm and DC Comics. Including artwork that covers his entire career with both companies including sketches and art that I've never seen before, this really is the perfect book for any Jim Lee fan. The physical look of the book, too, from the shear size of the volume to the layout of the interior pages does nothing but add to the beauty of the book. I think that this is a volume that can truly show that comics are not just a form of entertainment but can also be viewed as a true work of art. Bill Baker's running comments on the art and background information on Lee and his studio makes for a nice finishing touch.
Naturally, the only thing that would make this volume perfect would be to also include his art and time with Marvel, but since he is now DC Comics' co-publisher, this may be the best book that we'll get for the foreseeable future.
Highly recommended to anyone who is a fan of Jim Lee's artwork or to anyone who enjoys a beautifully presented book of art.