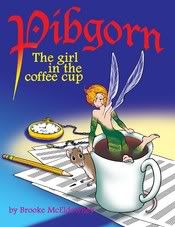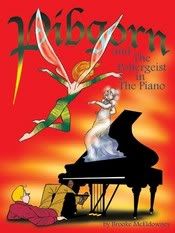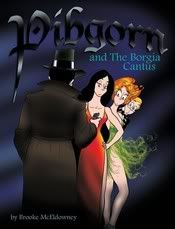 Title
:
Pibgorn: the Girl in the Coffee Cup
,
Pibgorn and the Poltergeist in the Piano
&
Pibgorn and the Borgia Cantus
Series
:
Pibgorn
Author
: Brooke McEldowney
Copyright
: 2006, 2009
Pages
: 58, 94, 72
ISBN
: 0978831500, 9780978831523, 9780978831530
Publisher
:
Pib Press
Author Website
:
officialpibgorn.livejournal.com
Twitter
: @9chickweedlane
Format
: Paperback
Rating
: 4/5 stars
Finished
: 1-10-11, 1-11-11
Brooke McEldowney may be one of the funniest cartoonists out there. His razor-sharp wit and his character's equally razor-sharp dialogue combined with his fluid, organic art style makes for one the freshest, most clever, most visually appealing reading experiences one can have with a daily comic strip. His stories can be at turns touching, laugh out loud funny and cuttingly sarcastic. In so few words, I love it.
I originally discovered McEldowney's work through his strip,
9 Chickweed Lane
. What caught my eye immediately was the art. I don't even know how to describe it except that it seems to literally flow. I've seen his rough sketches and it's like one continuous swirl that comes to life and creates his characters for him. I lost track of his strip for a couple of years, but thanks to the wonder that is the internet, I re-discovered not only
9 Chickweed Lane
, but found that he had started another online strip called
Pibgorn
. Pibgorn is a fairy who is in love with a human and whose best friend is a homicidal succubus. I found my way into the
Pibgorn
world a little late, so was already behind-the-times when I started reading but quickly got caught up in the story and was loving every minute of it. You can imagine my pleasure when I also discovered that the
Pibgorn
strips were going to be reprinted as collected editions!
It's been fun watching the characters grow and take shape and come into themselves.
The Girl in the Coffee Cup
introduces us to our three main characters, Pibgorn, Drusilla and Geoff and sets up their relationships with each other.
The Poltergeist in the Piano
sends Pib and Dru on a time traveling murder mystery involving a vampire. In
The Borgia Cantus
, Dru has been keeping the demons that she's been vanquishing hidden, that is until Pib unknowingly unleashes their forces on NYC. The characters aren't entirely themselves yet, but you can definitely see the potential of these characters. I'm really hoping that further editions of Pib and Co's adventures are released.
For more information on these and potential future Pibgorn editions, visit
Pib Press
.