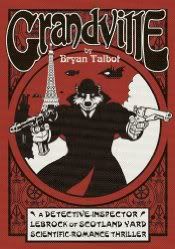 Title
:
Grandville
Series
:
A Detective-Inspector LeBrock of Scotland Yard Scientific-Romance Thriller
Author
: Bryan Talbot
Copyright
: 2009
Pages
: 108
ISBN
: 9781595823977
Publisher
:
Dark Horse Comics
Author Website
:
www.bryan-talbot.com
Twitter
: @DarkHorseComics, @Bryan_Talbot
Format
: Hardcover
Rating
: 4/5 stars
Finished
: 1-18-11
From Amazon:
Two hundred years ago, Britain lost the Napoleonic War and fell under the thumb of French domination. Gaining independence after decades of civil disobedience and anarchist bombings, the Socialist Republic of Britain is now a small, unimportant backwater connected by a railway bridge, steam-powered dirigible, and mutual suspicion to France. When a British diplomat is murdered to look like suicide, ferocious Detective-Inspector LeBrock of Scotland Yard stalks a ruthless murder squad through the heart of a Belle Epoque Paris, the center of the greatest empire in a world of steam-driven hansom cabs, automatons, and flying machines. LeBrock's relentless quest can lead only to death, truth... or war.
In a world inhabited by anthropomorphic animals and where France wins the Napoleonic War, Britain falls under French rule until after decades of civil unrest, Britain frees itself from France and becomes the Socialist Republic of Britain. After the murder of a British diplomat that is made to look like a suicide, Detective-Inspector LeBrock of Scotland Yard and his assistant Detective Ratzi go on a mission to discover the real culprit and uncover a conspiracy that lies far deeper in the French government than anyone could believe.
Detective-Inspector LeBrock (a badger) is quite clearly modeled at least partially after Sherlock Holmes and his assistant Ratzi (a rat) after Watson. In this alternate history, the world is not only inhabited by animals (and a very few humans, referred to as "doughfaces") but steam technology has progressed to an advanced degree, clearly making this graphic novel Steampunk inspired.
Bryan Talbot's art is dark and gritty and his writing is at turns clever and witty. There has been a second volume released featuring DI LeBrock and I think I would like to check that out at some point. While this is a graphic novel, it can be very violent and adult in nature, so I wouldn't recommend it to a younger audience, but for adults who enjoy a good mystery and aren't turned off by too much violence, I'd say give this a chance.