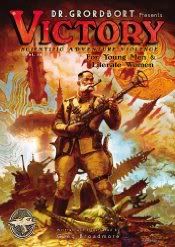 Title
:
Dr. Grordbort Presents: Victory
Author
: Greg Broadmore
Copyright
: 2009
Pages
: 64
ISBN
: 9781595824639
Publisher
:
Dark Horse Comics
Author Website
:
gregbroadmore.blogspot.com
Twitter
: @DarkHorseComics
Format
: Hardcover
Rating
: 4/5 stars
Finished
: 1-22-11
From Amazon:
Doctor Grordbort Presents: Victory - Scientific Adventure Violence for Young Men and Literate Women is the year's foremost journal of progressive armaments and weaponry! Behold the latest line of defense captured in action! Filled to the brim with firsthand tales of exploration and progress from the great heroes of our time, picture strips of unimaginable escapades on the frontier, never-seen-before portraits of dazzling damsels and monstrous villains, and laudable accounts of man and robot pitted against our greatest enemy (the uncivilized world), Victory is an onslaught of action-packed scientific adventure in full-spectrum color - containing facts that every boy and literate girl should know.
What mysteries and marvels will he uncover? Golly, it's so exciting thinking about it that I've just peed myself a little. Read on!
Dr. Grordbort Presents: Victory - Scientific Adventure Violence for Young Men and Literate Women
reads like a scientific journal of a time long passed that hasn't happened yet. In this retro-futuristic world, we have traveled to Mars, Venus & the Moon and have discovered the varied and sometimes dangerous inhabitants of these planets. The hero of our tale, Lord Cockswain, basically blunders his way through one adventure after another, always seeming the hero even though it is the circumstances surrounding him and his ignorance that proves otherwise.
The entire thing is entirely told tongue-in-cheek. There are advertisements for Dr. Grordbort's latest ray guns, advertisements for the latest military weapons, advertisements to encourage young men to join the military and explore the solar system, tales of the adventures of Lord Cockswain. I found myself laughing several times throughout the book.
In direct contrast to the over the top writing is Greg Broadmore's gorgeous art. Broadmore works at the Weta Workshop (you know, the people behind the
Lord of the Rings
films) and has worked on such films as
District 9
,
King Kong
and
The Chronicles of Narnia: The Lion, the Witch and the Wardrobe
. His artwork throughout ranges from the slightly silly to downright engaging. It's this contrast of such striking art and comical writing that makes
Dr. Grordbort Presents: Victory
such a fun book to read.