#91 in 2010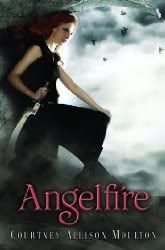 Title
:
Angelfire
Series
:
Anglefire
, Book 1
Author
: Courtney Allison Moulton
Copyright
: 2011
Pages
: 384
ISBN
: 9780062002327
Publisher
:
Harper Collins
Author Website
:
www.courtneyallisonmoulton.com/
Twitter
: @CAMoulton, @harperteen
Format
: ebook through
NetGalley
Available
: 2-15-11
Rating
: 4/5 stars
Finished
: 11-21-10
From Amazon:
First there are nightmares.

Every night Ellie is haunted by terrifying dreams of monstrous creatures that are hunting her, killing her.

Then come the memories.

When Ellie meets Will, she feels on the verge of remembering something just beyond her grasp. His attention is intense and romantic, and Ellie feels like her soul has known him for centuries. On her seventeenth birthday, on a dark street at midnight, Will awakens Ellie's power, and she knows that she can fight the creatures that stalk her in the grim darkness. Only Will holds the key to Ellie's memories, whole lifetimes of them, and when she looks at him, she can no longer pretend anything was just a dream.

Now she must hunt.

Ellie has power that no one can match, and her role is to hunt and kill the reapers that prey on human souls. But in order to survive the dangerous and ancient battle of the angels and the Fallen, she must also hunt for the secrets of her past lives and truths that may be too frightening to remember.
Courtney Allison Moulton's debut,
Angelfire
, is a fast-paced, action-packed thrill ride of a book, with a little side of romance thrown in for good measure. Ellie, who is just about to turn seventeen, has been experiencing nightmares of creatures who are hunting and killing her, nightmares so realistic they almost seem to verge on memory. But, they're just nightmares, right? No harm can from them, right? She keeps thinking that, until she meets one of the creatures while she's awake. And the mysterious boy, Will, who comes to her rescue that night may just hold the key to her memories and who and what she is, because Ellie is actually more than she knows. The creatures hunting Ellie are reapers, and they've actually been hunting Ellie for centuries, and Will has been her guardian for centuries. In turn, Ellie has been hunting and killing reapers for centuries, as well. How and why Ellie has been around for centuries, and why she can't remember these centuries, is all part of the mystery of who she truly is.
Courtney Moulton has created a heroine in Ellie who may seem a little too frail and unsure of herself at the beginning, but who grows into her own as a strong and forthright protagonist. At the beginning of the book, I just assumed that this was going to be your typical YA paranormal romance with your mystical being du jour (in this case, angels). I have to be honest, I enjoyed the opening of the book, but slowly grew to dislike Ellie as a whole. She seemed a little too whiny for my liking. However, I started to really think about it. Ellie just turned seventeen. She's still in high school, and she just discovered that she's a centuries old killing machine. But right now, she's still just seventeen (How is she centuries old and just turning seventeen at the same time you ask? Read the book and find out!) She's still just figuring out who she really is as a person, not just this killing machine. So of course, she's confused and is a little against the whole idea of having to be this thing that she doesn't want to be, and just wants to be a normal teenager. Once I came around to her understanding of who she is versus who she wants to be, her behavior seemed so much more in line with her teenage self. Add in the possible attentions of two different boys, and you have yourself a girl with a lot on her plate, all at once!
There is plenty of adventure in this book. There are several fight sequences between Ellie and the reapers, and they are very detailed and highly choreographed. In fact, there seems to be almost no let up on Ellie with the fighting, and you begin to wonder if the poor girl is ever going to have a chance to catch her breath!
The mythology that Moulton is creating with Ellie and the reapers and angels is quite unique and I really love how she is working in so many time periods into Ellie's past. For a debut book, Moulton is certainly packing quite a bit of research and information into her book and making for a really interesting read.
So, long story short, Moulton completely won me over with her writing and her characters. This is a strong debut from an author that I am anxious to see more of in the future.
Recommended!