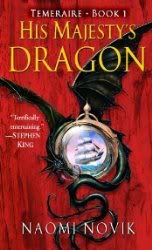 Title
:
His Majesty's Dragon
Series
:
Temeraire, Book 1
Author
: Naomi Novik
Copyright
: 2006
Pages
: 384
ISBN
: 9780345481283
Publisher
:
Ballantine Books
Author Website
:
www.temeraire.org
Twitter
: @naominovik
Format
: Paperback
Rating
: 5/5 stars
Finished
: 3-21-10
Challenge
: 100 Books 10, TIOLI
From Amazon:
Aerial combat brings a thrilling new dimension to the Napoleonic Wars as valiant warriors rise to Britain's defense by taking to the skies... not aboard aircraft but atop the mighty backs of fighting dragons.

When HMS Reliant captures a French frigate and seizes its precious cargo, an unhatched dragon egg, fate sweeps Capt. Will Laurence from his seafaring life into an uncertain future–and an unexpected kinship with a most extraordinary creature. Thrust into the rarified world of the Aerial Corps as master of the dragon Temeraire, he will face a crash course in the daring tactics of airborne battle. For as France's own dragon-borne forces rally to breach British soil in Bonaparte's boldest gambit, Laurence and Temeraire must soar into their own baptism of fire.
I absolutely loved this book. I was trying to decide on a TIOLI challenge book for March (read a book by an LT Author) and I needed something that was more brain candy than anything else, and after reading a couple of other reviews/recommendations of
His Majesty's Dragon
decided I'd pick up the first book if I found it at the bookstore. Much to my now pleasure, they had a copy and I went ahead and broke my no new book buying rule for about the 100th time this year and picked it up. Needless to say, the next four are on their way from Amazon now.
Novik takes another look at the Napoleonic Wars in this series, one where dragons are an important part of all armies and their fighting forces. The dragons are harnessed at birth (when they emerge from their egg) with a human rider who becomes their captain, and together they become a fighting force with an entire crew that works to keep the dragon healthy and safe. When Capt. Laurence captures a French ship carrying a dragon egg, at first he imagines only what his share of the prize money will be, but when it is discovered that the egg will hatch before they reach port, the decision is made to try to harness the dragon right on the ship, something that has never been done before, as the Aerial Corps has always handled all eggs and the subsequent harnessing. Much to his surprise, when the new dragonet hatches, it completely ignores the man whose name was pulled to try the harnessing, and instead speaks directly to Laurence and allows him to do the harnessing. Now Laurence must leave the navy and with the newly named Temeraire, must learn the ways of the Aerial Corps. And I couldn't put the book down from here on out.
I loved the growing relationship between Laurence and Temeraire. Instead of just being mindless beasts bent on destruction, Novik has created intelligent and engaging characters in her dragons, and from the moment that Temeraire speaks to Laurence, I was totally lost in their growing friendship and trust. I think this, above and beyond anything else in the book, was what had me hooked from the beginning. There was just something about the way that Novik had Laurence and Temeraire grow closer that I just found totally mesmerizing. The other side stories were just as equally well-written, but it was the experience of watching Laurence and Temeraire grow into their partnership that held the entire book together so unquestionably. Of course, there is so much more to the story than just their growing relationship; there is also their training and the interactions on both Laurence and Temeraire's parts with their new comrades and the battle at the end of the book where we learn the true nature of Temeraire's breeding. It's just all so well put together, I loved every moment of the book and read it in 2 days.
I always enjoy discovering a new author, but to be able to find a book that I can so easily get lost in as well is a complete treat for me, and I can't recommend
His Majesty's Dragon
enough. I'm anxiously looked forward to moving on to the second book in the series,
Throne of Jade
. This will easily be topping my list of favorite books of the year.