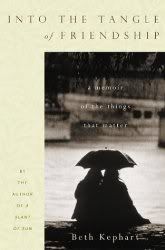 Title
:
Into the Tangle of Friendship: A Memoir of the Things That Matter
Author
: Beth Kephart
Copyright
: 2000
Pages
: 224
ISBN
: 9780618033874
Publisher
:
Houghton Mifflin Harcourt
Author Website
:
beth-kephart.blogspot.com
Format
: Hardcover
Rating
: 5/5 stars
This is a beautiful book on the power of friendship. Lovingly written and to-the-point, Beth Kephart has put on paper so many of my own feelings that I was never able to put words to. Not all friendships are easy, some are a challenge, but Beth shows us that we can take something away from each friendship and that even the challenging friendships matter.
I first read
Into the Tangle of Friendship
several years ago when it was first released. At the time, I was going through many life changes, discovering who I was and discovering new friendships through these life changes. There was so much in the book that spoke to me at the time, I was shocked. It was like Beth had reached in my head and pulled all the emotions that I couldn't speak and put them in her book. I found it just as refreshing reading this book again, now, where I am currently in my life. Some of the friendships that I formed then have moved on, others have remained; some have strengthened, some have weakened, but I cannot deny the fact that each and every one of these people mattered to me, in one way or another. I've learned lessons from each of them, and they have all had an impact of some sort on my life, and I can find parallels to so many of these friendships in Beth's book. It has helped me to look on some of these friendships in a new light, and even those that I feel have gone bad are still important in the lessons that they have taught me. I will be interested to read this book again in a few years to see where I am in my life and how the book will speak to me then.
Beth's writing is amazing. More than just telling us her story, she is painting us a picture with words. Lyrical, poetical, flowing; these all describe her writing.
You can read each chapter independently of each other, but taken as a whole, they do tell a story. This isn't the type of book to breeze through; read each chapter, sit with it for awhile to fully realize what it is telling you and treasure it. I think everyone will come away with something different from this book, as each of our friendships are different and unique in their own right, but I do think that everyone can relate to the ideas that Beth puts forth in her book.