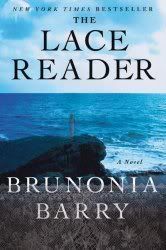 Title
:
The Lace Reader
Author
: Brunonia Barry
Copyright
: 2008
Pages
: 390
ISBN
: 9780061624766
Publisher
:
William Morrow
Author Website
:
www.brunoniabarry.com
Twitter
: @BrunoniaBarry
Format
: Hardcover
Rating
: 5/5 stars
Go and read this book! Right now!
Brunonia Barry's
The Lace Reader
is a novel that delves into so many realms, it is hard to know where to start. The first chapter introduces us to Towner Whitney, one of a long line of Whitney women who have been labeled "quirky" by the other inhabitants of Salem. The chapter opens:
My name is Towner Whitney. No, that's not exactly true. My real first name is Sophya. Never believe me. I lie all the time.

I am a crazy woman…. That last part is true.
It is an appropriate opening for the book, for it is a book of secrets, of family lies and of history; both familial history and geographic history, as we are given some background of the town of Salem and the events that created it.
Towner comes from a long line of "readers," women who can read you past, present and future in lace. There is a specific process to the reading of lace, which is explained throughout the book. Towner has given up lace reading after the death of her sister and the subsequent depression that forced Towner to escape Salem and move to California, the farthest place she can escape to in her mind. She is brought back to Salem after the death of her great-aunt, where she begins to discover that everything about her past may or may not be as she remembers it.
This is an amazing debut novel. Barry interweaves so many plot threads, it's as if she is creating lace out of her own story. The plot moves along nicely, and Barry gives you just enough of the characters' histories throughout the story that you don't feel like you are being weighed down by their backgrounds. The characters are believable and well-rounded. Never did I feel that she was stretching the suspension of disbelief to make them seem real. I could picture walking the streets of Salem, and meeting these people downtown.
The way
The Lace Reader
is written is beautiful! The story just sucks you in. Barry's prose just flows throughout the entire book, taking you on this amazing journey. I was amazed by how quickly I became a part of the world that she was creating.
I think I've been a little bit lucky, in that I've been to Salem on two occasions now, so I'm familiar with the surroundings of the story. While some of the places are fictitious, Barry has created a most accurate view of present-day Salem. The city itself is just as much a character in the book as its inhabitants. Barry has set her story in the mid-90s, before Salem became too much of a tourist destination. It was just coming into it's own, and Barry captures the essence of city perfectly.
I think that Brunonia Barry may have something of a witch in her. The spell that she creates with this story was mesmerizing. I couldn't put the book down! Luckily I was traveling when I read it, so was able to finish the book one day. I'm anxiously looking forward to the magic that she will create with her next book.