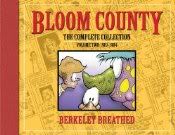 Title
:
Bloom County: The Complete Library, Vol. 2: 1982-1984
Series
:
Bloom County
Author
: Berkeley Breathed
Copyright
: 2010
Pages
: 304
ISBN
: 9781600105838
Publisher
:
The Library of American Comics, IDW Publishing
Website
:
www.berkeleybreathed.com
Twitter
: @IDWPublishing
Format
: Hardcover
Rating
: 5/5 stars
The second volume of the collected editions of Berkeley Breathed's
Bloom County
is just as good as the first, if not a little better. Breathed's wit is becoming a little sharper; his characters a little more defined, both artistically and literarily; he's beginning to find his way with the characters and the direction that he wants to take his strip in. His social commentary is starting to really solidify into what made this strip what it was: a commentary on us in the 80s. And what rings true then seems to still ring true in some cases today.
The reproduction quality of the strips could be a little better, but to be able to have all of the strips collected like this in such great editions, I'm willing to overlook that.