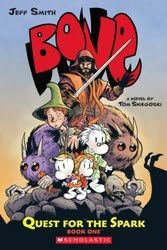 Title
:
Bone: Quest for the Spark, Book 1
Series
:
Bone
Authors
: Tom Sniegoski, illustrated by Jeff Smith
Copyright
: 2011
Pages
: 224
ISBN
: 9780545141024
Publisher
:
Graphix, an imprint of Scholastic
Author Website
:
www.boneville.com
Twitter
: @scholastic
Format
: Paperback
Rating
: 4/5 stars
From Amazon:
A return to the enthralling world of BONE with book one in this gripping spin-off novel trilogy, illustrated in four-color!

Twelve-year-old Tom Elm is just an ordinary turnip farmer from the Valley, but he's always felt destined for something bigger. So when he discovers everyone in his village is asleep and plagued by nightmares, he assembles a band of unlikely heroes. They must fight to preserve the Spark--a divine light born at the core of a vast, dark nothingness called the Nacht. The Nacht is trying to permeate the Waking World with nightmares of the Dreaming, and it's Tom's mission to defeat the Nacht and its most loyal follower, the Constable. If he fails, his family--and everyone--might never wake up again.
Bone: Quest for the Spark, Book 1
is a great followup to the
Bone
series. Thorn is queen and there has been peace in the Valley since the events of
Bone
. However, that is until people in the village start falling asleep and never waking up, including Queen Thorn.
Enter 12-year-old Tom Elm, turnip farmer. There isn't much about Tom that is extraordinary, except for his belief that he is destined for something greater. The destiny becomes apparent when the Dreaming chooses Tom to be their champion against the Nacht, the evil that is corrupting the Waking World. Tom it directed by the Dreaming to bring together a band of heroes to help him in defeating the Nacht.
Book 1 of
Quest for the Spark
is your general introductory trilogy book; we meet the main cast of characters, both good and bad, and are introduced to the danger at hand. Not much else happens here, but it is a great addition to the
Bone
mythology. It's different from previous
Bone
stories in that it is a prose story, but it it illustrated in full color throughout by Jeff Smith (the creator of
Bone
) and the illustrations are fantastic. I've always been a fan of Jeff Smith's artistic style; it's very simplistic and minimal but he packs quite a bit of emotion into each art panel. I prefer to see his artwork in black and white (as it was originally presented) but the colored version of these illustrations are still gorgeous. Tom Sniegoski does a great job in keeping the light and whimsical yet serious and epic feel of Smith's writing from the original series. Overall, a great book and I can't wait for the next volume!