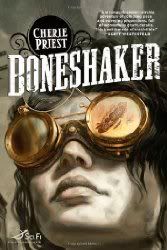 Title
:
Boneshaker
Series
:
The Clockwork Century
, Book 1
Author
: Cherie Priest
Copyright
: 2009
Pages
: 416
ISBN
: 9780765318411
Publisher
:
Tor Books
Author Website
:
www.cheriepriest.com
Twitter
: @cmpriest, @torbooks, @torSteampunk
Format
: Paperback
Rating
: 4/5 stars
From Amazon:
In the early days of the Civil War, rumors of gold in the frozen Klondike brought hordes of newcomers to the Pacific Northwest. Anxious to compete, Russian prospectors commissioned inventor Leviticus Blue to create a great machine that could mine through Alaska's ice. Thus was Dr. Blue's Incredible Bone-Shaking Drill Engine born.

But on its first test run the Boneshaker went terribly awry, destroying several blocks of downtown Seattle and unearthing a subterranean vein of blight gas that turned anyone who breathed it into the living dead.

Now it is sixteen years later, and a wall has been built to enclose the devastated and toxic city. Just beyond it lives Blue's widow, Briar Wilkes. Life is hard with a ruined reputation and a teenaged boy to support, but she and Ezekiel are managing. Until Ezekiel undertakes a secret crusade to rewrite history.

His quest will take him under the wall and into a city teeming with ravenous undead, air pirates, criminal overlords, and heavily armed refugees. And only Briar can bring him out alive.
Zeke wants to know the truth about his family. He's heard the stories, how his father, Leviticus Blue, built the Boneshaker, a machine that would mine through the ice of the Klondike to read gold for the Russians. He's heard the stories about how something went terribly wrong with the Boneshaker and how Blue lost control of it and it powered its way through the financial district of 1890s Seattle, smashing through several bank vaults before it reversed course and made its way back to the Blue mansion. He's heard the stories of how the Blight gas started to seep out, killing anyone who came into contact with it and turning them into zombies. He's heard all these stories, and doesn't want to believe them because his mother, Briar, who was there, won't tell him anything. And he's suspicious. And he plans on breaching the wall that has been built around Seattle to keep the Blight and rotters inside and finding out the truth and help rewrite his family's history. What he finds on the inside, however, may not be exactly what he is looking for.
Boneshaker
is just as much a book about family and the ties that bind as it is a Steampunk extravaganza. Yes, it has the requisite dirigibles, goggles, mechanical goodness and other necessities that are obligatory in making a story Steampunk, but it is also the story of the love a mother has for her child and the lengths that she will go to to protect that child. Briar will stop at nothing to make sure that Zeke is safe, and this is what helps this book stand out in the Steampunk crowd. There's more to it than just Steampunk. And, just to make sure that her story stands out from other Steampunk stories, Cherie Priest also throws in a (un)healthy dose of zombies, just for good measure. It's also full of great characters who are each unique and engaging, and the world-building is topnotch.
Boneshaker
is a great read. It's a great Steampunk novel. And it's a shame that it took me this long to finally getting around to reading it. Whether you're a fan of Steampunk or just enjoy a romping good book that is solidly written,
Boneshaker
is for you. Now, it's time for me to move on to
Clementine
and
Dreadnought
, the continuing stories of
The Clockwork Century
!