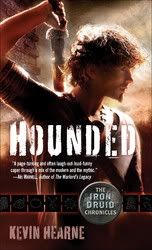 Title
:
Hounded
Series
:
The Iron Druid Chronicles, Book 1
Author
: Kevin Hearne
Copyright
: 2011
Pages
: 304
ISBN
: 9780345522474
Publisher
:
Del Rey
Author Website
:
www.kevinhearne.com
Twitter
: @KevinHearne, @DelReySpectra
Format
: ARC Paperback
Rating
: 5/5 stars
From Amazon:
Atticus O'Sullivan, last of the Druids, lives peacefully in Arizona, running an occult bookshop and shape-shifting in his spare time to hunt with his Irish wolfhound. His neighbors and customers think that this handsome, tattooed Irish dude is about twenty-one years old—when in actuality, he's twenty-one centuries old. Not to mention: He draws his power from the earth, possesses a sharp wit, and wields an even sharper magical sword known as Fragarach, the Answerer.

Unfortunately, a very angry Celtic god wants that sword, and he's hounded Atticus for centuries. Now the determined deity has tracked him down, and Atticus will need all his power—plus the help of a seductive goddess of death, his vampire and werewolf team of attorneys, a sexy bartender possessed by a Hindu witch, and some good old-fashioned luck of the Irish—to kick some Celtic arse and deliver himself from evil.
Holy crap, but did I love this book! Druids! Witches! Gods! Werewolves! Vampires! Irish wolfhounds! Widows! Throw all these things together, and what you have is an entirely romping fun adventure of a book.
Atticus O'Sullivan may look 21, but in reality he's 21 centuries old and the last Druid. And when you're that old, you're bound to make some enemies along the way. You see, Atticus is in possession of a sword that he "stole" from the Tuatha Dé Danann almost 2000 years ago, and some of those gods want the sword back. Unfortunately for Atticus, one of these ancient gods has made it his personal vendetta against Atticus and has chased him for centuries. And Atticus has run for centuries. But maybe it's time for Atticus to stop running and face his pursuer. However, even Atticus knows it's not a good idea to take on a god by yourself, so he calls in help from some other gods, his vampire/werewolf tag team of attorneys, a bartender who is possessed by a centuries old witch and his faithful Irish wolfhound, Oberon. But even this mixed bag of heroes may not be enough to take down a Celtic love god who has allied himself with Hell and a coven of witches.
I thoroughly enjoyed this book from the moment I picked it up. Hearne's writing is so natural that it picks you right up in the story and sweeps you along. The world building in
Hounded
isn't too challenging - the entire story takes place in Tempe, AZ - but it's the way that Hearne utilizes gods from several pantheons to create a varied way that religion works in his world. I think this is a really unique approach to gods and Hearne uses it well. Don't let this intimidate you, though. Hearne explains who everybody is and doesn't leave you hanging on trying to figure out who is who.
The writing is fast-paced but doesn't seem to want to try to get ahead of itself. I've noticed this in books I've read before like this, that the story tries to move itself along almost too quickly, not giving you a chance to keep up with it. That's not the case here; Hearne keeps his story moving but without rushing you through it. His entire cast of characters are funny and witty, but not overly so. I found myself laughing out loud through several portions of the book, and especially at Oberon, Atticus' Irish wolfhound. I think that Oberon may be my favorite character in the book. His take on the world and what is happening around him from a smarter-than-your-average dog point of view is often hysterical.
I could gush on some more about the book, but really, you just have to read it to really appreciate just how much fun it is. Fans of Jim Butcher's
The Dresden Files
will definitely want to pick this series up, but anybody who enjoys a funny, clever urban fantasy will really enjoy this book. Highly recommended!
Hounded
is available May 3, 2011, from Del Rey,
Hexed: The Iron Druid Chronicles, Book 2
will be available on June 7, 2011, and
Hammered: The Iron Druid Chronicles, Book 3
will be available on July 5, 2011, so you won't have to wait long for the rest of the series!
Federal regulations require that I disclose that I receive a small commission on any purchases made through Amazon links on my blog, which I use to purchase more books.

FTC Guideline: ARC paperback received from publisher for review