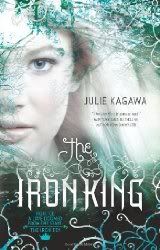 Title
:
The Iron King
Series
:
The Iron Fey
, Book 1
Author
: Julie Kagawa
Copyright
: 2010
Pages
: 363
ISBN
: 9780373210084
Publisher
:
Harlequin Teen
Author Website
:
www.juliekagawa.com
Twitter
: @harlequinteen, @jkagawa
Format
: Paperback
Rating
: 5/5 stars
From Amazon:
Meghan Chase has a secret destiny—one she could never have imagined…

Something has always felt slightly off in Meghan's life, ever since her father disappeared before her eyes when she was six. She has never quite fit in at school…or at home.

When a dark stranger begins watching her from afar, and her prankster best friend becomes strangely protective of her, Meghan senses that everything she's known is about to change.

But she could never have guessed the truth—that she is the daughter of a mythical faery king and is a pawn in a deadly war. Now Meghan will learn just how far she'll go to save someone she cares about, to stop a mysterious evil no faery creature dare face…and to find love with a young prince who might rather see her dead than let her touch his icy heart.
I'll admit right up front that I was skeptical about this book. My friend
Gail
had been bullying me for awhile to pick up the series and give it a try, but honestly, the whole Harlequin thing kind of turned me off of the entire idea (even if it is being published through Harlequin Teen). It kept getting great reviews, as did the subsequent books, but it really wasn't until the third book was released and it was dedicated partly to Gail that I figured I should give it a try. If one of my best book friends was willing to promote the series so much that the author dedicated the book to her... well, I figured it was time to read at least the first one,
The Iron King
.
Wow. Wow wow wow!
I loved it! Julie Kagawa has such a natural story-telling ability that I was completely sucked into the story, immediately. Her characters are believable and her landscapes are tangible. I was thoroughly enjoying the book when she added in such a compelling and new idea, I was practically jumping up and down from the excitement I had. Her ideas about the new breed of Fey is genius. It seems so obvious, I'm surprised nobody has come up with it before (and maybe they have, and I just don't know about it), but she took the idea and ran with it. I don't really want to give too much away because it really is in the realization of what the new Fey are that makes it so interesting, but needless to say, these are Fey for the 21st century.
The story centers around Meghan Chase, your typical teenager trying to make her way through high school and life. She has all the typical high school problems: family, boys, school. But it isn't until a dark stranger starts following her and her best friend, Robbie Goodfell, starts to act overly protective of her that things start to get really strange. It all culminates in Meghan discovering that she is the child of a faery king and that she is being used as a pawn of war. Add in the mysterious Prince Ash, and you have all the elements you need to for one great story. Oh, and don't worry, for those curious there isn't too much romance, if any. For a Harlequin book, they really were light on the romance and heavy on the action for this book.
If you're looking for an original story set in a at turns familiar and yet strange land, I'd highly recommend
The Iron King
. I'm sorry it took me so long to getting around to it, and I'll admit that maybe, this once, Gail was right. But don't tell her I said that. She'll never let me live it down.