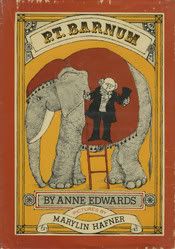 Title
:
P.T. Barnum
Authors
: Anne Edwards, illustrated by Marylin Hafner
Copyright
: 1977
Pages
: 63
ISBN
: 9780399610837
Publisher
: Putnam Publishing Group
Format
: Hardcover
Rating
: 3/5 stars
This is a charming little volume that is definitely geared toward a younger audience but is still a good, if simplified, biography of P.T. Barnum. Edwards follows his life from childhood right up to his death, highlighting all the major accomplishments in his life. The accompanying illustration by Marylin Hafner are cute, if not a little dated, but it's part of the charm of the book.