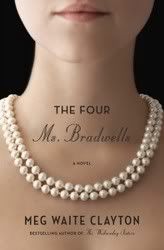 Title
:
The Four Ms. Bradwells
Author
: Meg Waite Clayton
Copyright
: 2011
Pages
: 336
ISBN
: 9780345517081
Publisher
:
Ballantine Books
Author Website
:
www.megwaiteclayton.com
Twitter
:
@MegWClayton
Format
: Hardcover
Rating
: 5/5 stars
In Meg Waite Clayton's latest, we are again introduced to a group of friends, but instead of watching their friendship grow like we did in
The Wednesday Sisters
, we find ourselves in the midst of a friendship already decades in the making. Mia, Laney, Betts, and Ginger have been friends since their days in law school, when they were all dubbed "the Ms. Bradwells" by their professor in their very first class at the University of Michigan Law School. We first meet the Four Ms. Bradwells during Senate hearings to appoint Betts to the Supreme Court, except a skeleton in their closet is uncovered from early on in their friendship that may hinder Betts' appointment. This skeleton also raises questions about their friendship and who has kept secrets from who over the years.
Clayton also raises other issues in her book, including those of women's rights, but I'll leave the main issue that she brings to her story a secret, because it is this issue that ties everything together in the book, and I don't want to give it away. Needless to say, the secret has to do with a death, and this is the crux of the skeleton in the friends' closet that they need to overcome. The secret is brought up in the very first chapter so you're not kept waiting, and it's presented in a completely intriguing and compelling manner, making you want to find out what happened.
One of the aspects that I enjoyed most about
The Wednesday Sisters
that is carried over into
The Four Ms. Bradwells
is that I felt like I had gotten to know the friends by the end of the book, that they were my friends too. Clayton has a knack for making her characters completely believable and tangible, with all the quirks and imperfections that would make them real people. They have real faults, real problems, aren't perfect, and in this imperfection, she has created honest and true characters.
Do yourself a favor and pick up
The Four Ms. Bradwells
. It's a refreshing read for early summer and while it does deal with some heavy subjects, it does so in a manner that is easy to read and relatable to the characters. And while you're at it, if you haven't read
The Wednesday Sisters
, pick that up at the same time. Both books are excellent stories on the power of friendship and what that power can help friends overcome.
Highly recommended.
To purchase any of the books in this post, and help my local Indie bookstore, and help me buy more books, click the links above!