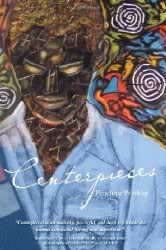 Title
:
Centerpieces
Author
: Penelope Przekop
Copyright
: 2011
Pages
: 179
ISBN
: 9780615464732
Publisher
: Hallway Press
Author Website
:
www.penelopeprzekop.com
Twitter
: @PenelopePrzekop
Format
: Paperback
Rating
: 4/5 stars
From Amazon:
Vincent van Gogh fakes his death, Ellis Spenser longs to paint. Holly Carter conceals a famous lineage. Theo van Gogh gains his health, but loses the woman he loves. Mimi Calais says she's a vampire. Tom Spencer hatches a plan.

Ellis and Tom Spencer oversee the drug safety organization in one of the world's largest and most respected companies, Pratt Pharmacueticals. Tom's deviant plan for their future begins to splinter when Ellis meets Holly Carter, a lonely Southern woman who has come to New York to pursue art while furthering her pharmaceutical career. Holly lives in a Greenwich Village apartment building owned by Mimi, a mysterious young woman whose claims of being a vampire remind Holly that life goes on. As Ellis pursues Holly, the past and present begin to overlap. Dark secrets emerge amidst Mimi's bizarre bookstore, strip clubs, galleries, brownstones, corporate culture, and Starbucks ad nauseam.

Two sets of extraordinary brothers, and two very different women, struggle to carve out unique identities in a world where middle age is the beginning of the end; corporate puppets and dreaming immigrants rub shoulders in the hallowed burning halls of Ellis Island; and forever takes on new meaning.

Van Gogh only sold one painting during his lifetime. Based on extensive research, Centerpieces, explores the miraculous explosion of Van Gogh's work shortly after his suicide and the death of his brother, Theo, six months later.

Join Vincent in a journey of self-discovery, friendship, betrayal, fantasy, corporate intrigue, and love. Find out what he sacrificed for art.
Penelope Przekop's latest book,
Centerpieces
, is first and foremost a study about art, and the importance that art can have in a person's life. History tells us that Vincent van Gogh shot himself in 1890, but what if he faked his death? What if he was still alive today? What if his brother, Theo, was still alive, too? What has been keeping them alive and what has been their driving force all these years?
I'm not going to lie, I found
Centerpieces
completely intriguing and compelling, but I don't even know how to describe it. I'm not really sure I've ever read anything like it before. I felt there were just as many questions at the end of the book as there were at the beginning (what exactly are Theo and Vincent, what has kept them alive for so long, what part does the drug taperaquin play in their extended lives), but somehow these questions didn't really need answering at the end. If you just accept the fact that van Gogh is alive 100+ years after his death, that there may be more to his existence and what he has become that what is said, then you will have no problem making your way through this story.
Przekop has said that she wrote this book as an answer to questions she had raised in her own life while working for a pharmaceutical company and wanting to lead a more artistic life. I can see a lot of this conundrum in both Ellis and Holly, as they try to find their way in the regimented world of pharmaceuticals while their actual calling in life is art. Przekop masterfully weaves their lives together, with elements from both the past and present, to help them reach their ultimate potential, as both people and as artists.
Like her book,
Aberrations
, Przekop takes people with everyday problems and makes their story into something that needs to be told. With
Aberrations
, it was accepting yourself for who you are regardless of what others think about you. With
Centerpieces
, it's about finally accepting the parts of your life that may not fit in with the path that you thought you planned for yourself, and deciding that sometimes you need to strike out on that unfamiliar path, even if it means walking away from what you think your life is all about.
Obviously extensively researched, Przekop weaves van Gogh's art, his life, his family and actual historic events together to create a story that is both about humanity and art. What exactly are Vincent and Theo in this modern world? We may never know for sure, but their story is one of brotherly love and of art, and one that I enjoyed reading. I hope to see more of Przekop's stories published in the future. Hers is a unique voice in the literary world that needs to be heard.
Federal regulations require that I disclose that I receive a small commission from any purchases made through the Amazon links on my website, which I use to purchase more books.