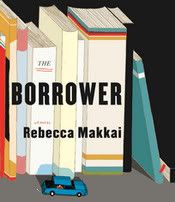 Title
:
The Borrower
Author
: Rebecca Makkai
Narrator
: Emily Bauer
Copyright
: 2011
Pages
: 336
ISBN
: 9780670022816
ISBN
: 9781611744460 (audiobook)
Publisher
:
Viking Adult
Audio Production
:
HighBridge Company
Author Website
:
rebeccamakkai.com
Twitter
:
@rebeccamakkai
,
@VikingBooks
Format
: Audiobook
(received through LibraryThing's Early Reviewers program from publisher)
Rating
: 4/5 stars
From Amazon:
In this delightful, funny, and moving first novel, a librarian and a young boy obsessed with reading take to the road.

Lucy Hull, a young children's librarian in Hannibal, Missouri, finds herself both a kidnapper and kidnapped when her favorite patron, ten-year-old Ian Drake, runs away from home. The precocious Ian is addicted to reading, but needs Lucy's help to smuggle books past his overbearing mother, who has enrolled Ian in weekly antigay classes with celebrity Pastor Bob. Lucy stumbles into a moral dilemma when she finds Ian camped out in the library after hours with a knapsack of provisions and an escape plan. Desperate to save him from Pastor Bob and the Drakes, Lucy allows herself to be hijacked by Ian. The odd pair embarks on a crazy road trip from Missouri to Vermont, with ferrets, an inconvenient boyfriend, and upsetting family history thrown in their path. But is it just Ian who is running away? Who is the man who seems to be on their tail? And should Lucy be trying to save a boy from his own parents?
First and foremost, your going to have to have a rather elevated suspension of disbelief when getting into this story, but it's worth it. Lucy Hull is a children's librarian in Hannibal, MO, when she inadvertently kidnaps Ian Drake, a 10-year-old boy who Lucy has grown fond of because of his love of reading. He may or may not be gay, and it appears that Ian's parents are trying to "de-gay" him through an Evangelical pastor. Lucy knows in her heart that this is wrong, so when Ian turns up in the library one morning where he had obviously slept the previous night after running away from home, Lucy doesn't do much to stop him when Ian "blackmails" her into driving him to Vermont to see his grandmother. This is where the story becomes a little far-fetched; I had a hard time believing that Lucy would actually go along with Ian, at least to driving such a long distance. But Rebecca Makkai made Lucy and Ian such likable characters, and while their adventure seems completely implausible, I still enjoyed every moment of it, cheering them on throughout their cross-country caper.
Makkai has a great sense of humor that she sprinkles throughout her story. I found myself laughing out loud several times while listening to the story. She's also able to add in a decent amount of emotion to her story; I found myself genuinely concerned for the outcome of the story and what was going to happen to Ian and following Lucy's revelation about her own life, what was going to happen to her. For a debut book, Rebecca Makkai has impressed me. I'll be looking out for more by her in the future.
I'm pretty sure that I would have enjoyed this story had I been reading it, but Emily Bauer's narration was just so damned good. She has a great reading voice and brought the "just right" touches to so many parts of the story. I would love to find more books narrated by her.
If you're looking for a fun book and don't mind a slightly far-fetched storyline, I'd recommend
The Borrower
; if you're looking for something of the same to listen to on your commute, I'd recommend it even more. You won't be disappointed.
Federal regulations require me to disclose that I receive a small commission from these Amazon links, which I use to purchase more books from Amazon.