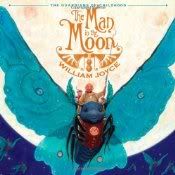 Title
:
The Man in the Moon
Series
:
The Guardians of Childhood
Author
: William Joyce
Copyright
: 2011
Pages
: 56
ISBN
: 9781442430419
Publisher
:
Atheneum Books for Young Readers
Author Website
:
www.theguardiansofchildhoodbooks.com
Twitter
:
@simonschuster
Format
: Hardcover
Rating
: 4/5 stars
Product Description From Amazon:
Up there in the sky.

Don't you see him?

No, not the moon.

The Man in the Moon.

He wasn't always a man.

Nor was he always on the moon.

He was once a child.

Like you.

Until a battle,

a shooting star,

and a lost balloon

sent him on a quest.

Meet the very first guardian of childhood.

MiM, the Man in the Moon.
Charming. That's the simplest, most appropriate word to describe
The Man in the Moon
, the first offering from William Joyce and his
The Guardians of Childhood
series of picture books and chapter books. It's a simple little story about how MiM, the Man in the Moon, came to live in the moon. I could really make this review all spoilery, but since the book is so short (it is a picture book, after all), I'll just leave it at impressions. Joyce creates a world for MiM that is both beautiful and slightly dark, breathing new life into some of our favorite early childhood fairy tales (here's a hint: the next book that will be available is a chapter book titled
Nicholas St. North
). Joyce's art has its usual flair and distinctive look, and it really adds to the overall feel of the story. I'm glad that I picked this up and will be looking forward to the rest of the series!
I know this is a short review, but really, you should just pick up
The Man in the Moon
and discover its joy for yourself.
Happy reading!