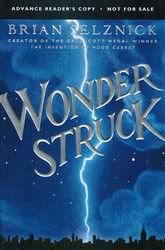 Title
:
Wonderstruck
Author
: Brian Selznick
Copyright
: 2011
Pages
: 629
ISBN
: 9780545027892
Publisher
:
Scholastic Press
Author Website
:
www.wonderstruckthebook.com
Twitter
:
@Scholastic
Format
: ARC (borrowed from friend)
Rating
: 3/5 stars
Product Description From Amazon:
Playing with the form he created in his trailblazing debut novel, The Invention of Hugo Cabret, Brian Selznick once again sails into uncharted territory and takes readers on an awe-inspiring journey.

Ben and Rose secretly wish their lives were different. Ben longs for the father he has never known. Rose dreams of a mysterious actress whose life she chronicles in a scrapbook. When Ben discovers a puzzling clue in his mother's room and Rose reads an enticing headline in the newspaper, both children set out alone on desperate quests to find what they are missing.

Set fifty years apart, these two independent stories - Ben's told in words, Rose's in pictures - weave back and forth with mesmerizing symmetry. How they unfold and ultimately intertwine will surprise you, challenge you, and leave you breathless with wonder. Rich, complex, affecting, and beautiful - with over 460 pages of original artwork - Wonderstruck is a stunning achievement from a uniquely gifted artist and visionary.
Sigh. I really wanted to like this book more than I did. Honest, I did!
The Invention of Hugo Cabret
was one of my favorite reads the year it was released, so when I heard Brian Selznick was releasing a new book in the same fashion, I was thrilled. When a friend offered to let me borrow her ARC, I was even more excited! I settled in for what I was hoping was going to be as just a magical and heartfelt story as
Hugo Cabret
, but I was left wanting at the end.
The story follows Rose, whose story is set 50 years in the past and told in pictures, and Ben, whose present day story is told in prose. They are both looking for something more in their lives, and as the tale jumps back and forth from Rose's story to Ben's, we are led on an "adventure" that eventually brings the two together in Ben's present day. I won't really give anything away, but needless to say, I had already figured out the connection between Rose and Ben long before it is revealed in the story, and found the coincidences that occurred to Ben far too convenient for my taste. In fact, I was really more vested in Rose's story than Ben's, because I felt everything that happened to Ben was far too unrealistic and forced to feel like the story was developing naturally. Everything that happened to Ben
needed
to happen in order for the story to progress. If his story didn't move, neither did any of the book. Unfortunately, this forced feeling in Ben's story just left me feeling a little cold to the story.
Rose's portion of the story is beautifuuly told, however. Selznick utilizes the same storyboard techniques he used in
Hugo Cabret
to make it feel like we are actually watching a silent movie about Rose and her story. I thoroughly enjoyed the entire drawn portion of the book and really wish that I had felt as strongly about the prose portions.
I never like writing reviews like this, especially over a book that has had so much work put into it. I can't imagine how long it took Brian Selznick to draw all the illustrations that went into
Wonderstruck
. Each one is a work of art unto itself. I just couldn't quite get into the rhythm of this story as much as I did
The Invention of Hugo Cabret
. Will this stop me from picking up future books from Brian Selznick? Absolutely not. The man is a genius with this storytelling technique.
Wonderstruck
just didn't quite strike me with as much wonder as I was hoping it was going to.