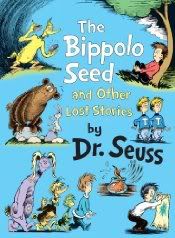 Title
:
The Bippolo Seed and Other Lost Stories
Author
: Dr. Seuss
Copyright
: 2011
Pages
: 72
ISBN
: 9780375864353
Publisher
:
Random House Books for Young Readers
Author Website
:
www.seussville.com/
Twitter
:
@seussville
,
@randomhousekids
Format
: Hardcover
Rating
: 4/5 stars
Product Description From Amazon:
It's the literary equivalent of buried treasure! Seuss scholar/collector Charles D. Cohen has hunted down seven rarely seen stories by Dr. Seuss. Originally published in magazines between 1948 and 1959, they include "The Bear, the Rabbit, and the Zinniga-Zanniga " (about a rabbit who is saved from a bear with a single eyelash!); "Gustav the Goldfish" (an early, rhymed version of the Beginner Book A Fish Out of Water); "Tadd and Todd" (a tale passed down via photocopy to generations of twins); "Steak for Supper" (about fantastic creatures who follow a boy home in anticipation of a steak dinner); "The Bippolo Seed" (in which a scheming feline leads an innocent duck to make a bad decision); "The Strange Shirt Spot" (the inspiration for the bathtub-ring scene in The Cat in the Hat Comes Back); and "The Great Henry McBride" (about a boy whose far-flung career fantasies are only bested by those of the real Dr. Seuss himself).

In an introduction to the collection, Cohen traces the history of these stories, which demonstrate an intentional and significant change that led to the writing style we associate with Dr. Seuss today. Cohen also explores these stories' themes that recur in better-known Seuss stories (like the importance of the imagination, or the perils of greed). With a color palette that has been enhanced beyond the limitations of the original magazines in which they appeared, this is a collection of stories that no Seuss fan (whether scholar or second-grader) will want to miss!
I've loved Dr. Seuss since I was a child. I'm sure at one point or another, I've read every Seuss book available (and own most of them), so when I heard that there was going to be a "new" collection of stories published, both me and my inner child squealed in delight! The stories are taken from magazines that were published between the mid 1940s to late 1950s, and hadn't really been seen since these magazines had originally been published.
These stories are quite clearly from early on in Dr. Seuss' writing career. They carry his inherit flare and whit that is prominent in all his writing, but they don't quite carry the "lesson learned" aspect that he became known for. Not that these elements aren't in these stories (such as "The Bippolo Seed," which deals with the dangers of greed), but they are only there marginally. It seems to me that Dr. Seuss wrote these tales more for pleasure and fun than really trying to bestow any kind of wisdom to his young readers as he would in his later books.
If you're a fan of Dr. Seuss I'd highly recommend this book. The drawings have been reproduced in a color palette that wasn't available to magazine's of the time, but matches perfectly with the colors used in his published books. The foreword by renowned Seuss scholar, Charles Cohen (who tracked down each of the stories in the collection), is a fascinating look into the history around when each of the story's were written and helps show how Dr. Suess helped change how books were written for children. This is a real treat for any Seuss fan!