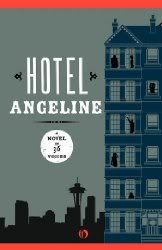 Title
:
Hotel Angeline: A Novel in 36 Voices
Authors
: Kathleen Alcala, Matthew Amster-Burton, Kit Bakke, Erica Bauermeister, Sean Beaudoin, David Boling, Deb Caletti, Carol Cassella, Maria Dahvana Headley, William Dietrich, Robert Dugoni, Kevin Emerson, Karen Finneyfrock, Jamie Ford, Clyde W. Ford, Elizabeth George, Mary Gutterson, Teri Hein, Stephanie Kallos, Erik Larson, Stacey Levine, Frances McCue, Jarret Middleton, Peter Mountford, Kevin O'Brien, Julia Quinn, Nancy Rawles, Suzanne Selfors, Jennie Shortridge, Ed Skoog, Garth Stein, Greg Stump and David Laskey, Indu Sundaresan, Craig Welch, Susan Wiggs
Copyright
: 2011
Pages
: 337
ISBN
: 9781453215319
Publisher
:
Open Road Integrated Media
Twitter
:
@openroadmedia
Format
: ebook
Rating
: 3.5/5 stars
Product Description From Amazon:
Thirty-six of the most interesting writers in the Pacific Northwest came together for a week-long marathon of writing live on stage. The result? Hotel Angeline, a truly inventive novel that surprises at every turn of the page.

Something is amiss at the Hotel Angeline, a rickety former mortuary perched atop Capitol Hill in rain-soaked Seattle. Fourteen-year-old Alexis Austin is fixing the plumbing, the tea, and all the problems of the world, it seems, in her landlady mother's absence.

The quirky tenants — a hilarious mix of misfits and rabble-rousers from days gone by — rely on Alexis all the more when they discover a plot to sell the Hotel. Can Alexis save their home? Find her real father? Deal with her surrogate dad's dicey past? Find true love? Perhaps only their feisty pet crow, Habib, truly knows.

Provoking interesting questions about the creative process, this novel is by turns funny, scary, witty, suspenseful, beautiful, thrilling, and unexpected.
Alexis Austin is taking care of the tenants of the Hotel Angeline in her mother's absence, an absence that Alexis doesn't want anybody to figure out just quite yet. The tenants of the Hotel are a great big mixed eclectic bag of eccentrics who rely maybe a little too heavily on Alexis (and before her, her mother) but who make up the only family that Alexis has ever known. Alexis is too young to have all this responsibility (she's only a teenager, after all), but to her, the alternative is grim to say the least. There's a reason that Alexis doesn't want people to find out where her mother is. However, when Alexis finds out that her uncle may be trying to purchase the Angeline out from under her and the tenants and that he needs to speak to her mother, Alexis finds her life quickly unraveling at the seams and it takes a series of slightly implausible events and the love of her "adopted" family at the Hotel for her to be able to make her life livable again.
OK, so this book took me
forever
to read. Through most of the book, I had a hard time finding it kept my attention for more than a chapter at a time, and that was being generous. I think part of that had to do with the same fact that held me to reading it; the book is written by a total of 36 authors from the Seattle area. The book was written during an event called
The Novel, Live!
, where 36 authors, over the span of 6 days, wrote a novel, each taking a chapter at a time. The whole idea was broadcast over the internet and was a fundraiser to help fight illiteracy. The idea was very cool, and the novel, while feeling rather disjointed throughout, is still an impressive feat. The authors had a basic plot to follow, and each was allowed to read what the previous author had written, and then they knew where their chapter was supposed to take them, but other than that, each author had free reign to more or less write whatever they wanted. I think this is what made the novel so long for me to read. There was the definite plot running through the whole thing, but sometimes the chapters didn't quite seem to line up with each other, as each author's distinct writing flavor took over at each new chapter. I will admit, however, that by the end of the story, I was surprised to find myself attached to Alexis and the tenants of the Hotel Angeline and was concerned and happy for their outcomes.
I'm impressed with the whole thing, and if they ever do another one of these I'll definitely read it, but I'm hoping that the next would maybe have a little more tighter editing, maybe? I don't know, just something to make it all seem a little more cohesive as a whole.
Recommended if you enjoy something along the line of experimental writing.