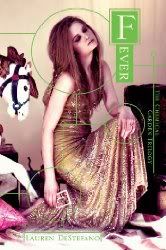 Title
:
Fever
Series
:
The Chemical Garden Trilogy
, Book 2
Author
: Lauren DeStefano
Copyright
: 2012
Pages
: 341
ISBN
: 9781442409071
Publisher
:
Simon & Schuster BFYR
Author Website
:
www.laurendestefano.com
Twitter
:
@LaurenDeStefano
,
@SimonTEEN
Format
: ARC provided from publisher
Available
: 2-21-12
Rating
: 5/5 stars
Product Description From Amazon:
Rhine and Gabriel have escaped the mansion, but they're still in danger. Outside, they find a world even more disquieting than the one they left behind. Determined to get to Manhattan and to find Rhine's twin brother Rowan, the two press forward, amidst threats of being captured again... or worse.

The road they are on is long and perilous—and in a world where young women only live to age 20 and men die at age 25, time is precious. In this sequel to Lauren DeStefano's harrowing Wither, Rhine must decide if freedom is worth the price—now that she has more to lose than ever.
I finished Lauren DeStefano's
Fever
Sunday night. You can expect a proper review closer to release date, but I can say, right now, put this on your radar. And if you haven't read
Wither
yet, go out and pick it up (the paperback was just released, and from what I understand also includes a teaser of
Fever
). I'm not going to lie, I wasn't sure what to make of
Wither
when I read it (check out my review
here
), but
Fever
totally sucked me in and wouldn't let me go. I read it in 2 sittings, and for those of you keeping track around here lately, that says something because I haven't been reading much of anything. Lauren DeStefano successfully made me a fan with
Fever
and I'm really looking forward to the release of book three to see how she wraps everything up.
Highly recommended!