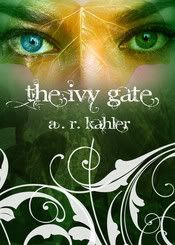 Title
:
The Ivy Gate
Author
: A.R. Kahler
Copyright
: 2011
Pages
: 188
Publisher
:
Smashwords
Author Website
:
arkahler.com
Twitter
:
@ARKahler
,
@Smashwords
Format
: ebook
Rating
: 3.5/5 stars
Katherine Townsend has been having visions. Nothing serious, just one minute she's in her life, and in the next blink, she's in a sun-filled meadow, and blink, she's back. They happen about once a week and that's that. She's been having them since her dad died two years ago and she won't tell anyone about them because she's pretty sure they'll think it's because of her dad. She lives in a factory town that is slowly dying at a coffee shop that has almost no customers. Her boyfriend left her. She still lives with her mom. Little does she know that she just has a couple of days to save the world. She is the child of two worlds that have been separated from ours through an ancient magic, and unless she can figure out keep the worlds from crashing back together again, everyone and everything she knows will be destroyed.
OK, I really wanted to like this book. I had a hard time deciding how to review
The Ivy Gate
, only because I did enjoy reading it, I just felt there was a lot of room for growth. Kahler's writing is really beautiful and quite vivid and he has some great imagery, but... Well, too many times he tries to use unique sentence breaks and structures to create a sense of break in Katherine's thinking and time due to the visions that in some cases it became hard to follow what he was trying to convey. Add that to the number of typos in the book and I kept finding myself pulled out of the story.
SPOILERS AHEAD
There is also the basis of the story that I found very confusing. Katherine has a blue eye and a green eye, and this is because once upon a time there were two races on Earth before humans, the blue-eyed Erenfell and the green-eyed Til'Dara. The Til'dara were magical and the Erenfell were more scientific. Each race has a different history and mythology, but basically they were at war with each other and the Erenfell separated the planes of existence to keep the Til'Dara from destroying everything. This is where I became confused; it was never made abundantly clear how many planes of existence were made. I had the initial impression that there were two, but later it was mentioned that there were three, which made more sense with the story. It all seemed very vague. Maybe it was supposed to be, but it felt
too
vague for me. Or maybe I just missed something in the reading, but needless to say, I found myself more confused than not during my reading.
END SPOILERS
The book is perhaps too short, as well. By the time I was halfway through, I was already hoping that this was book one of two, if not a series, as there seemed far too much going on to wrap up everything before the of the book. Kahler did wrap everything up, and did it in a reasonable manner, but I think the book would benefit greatly if it was longer. It just seemed to me that Katherine, who started out the book with no prior knowledge of the existence of the other races and then found out she had mere days to save the world with no information from either side on how to do it, gained far too much knowledge far too quickly. I know there is a need for the suspension of disbelief in a fantasy novel, even one I would consider urban fantasy, but this just seemed to require too much of a suspension. I would like to see Kahler revisit this story someday, later in his writing career, and expand on this idea. It's a great idea, don't get me wrong, but I think it would be even better if he took time to nurture it and let it grow a little, along with his writing technique. I'll definitely be looking for more from Kahler in the future.