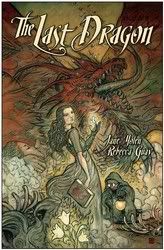 Title
:
The Last Dragon
Authors
: Jane Yolen; Illustrated by Rebecca Guay
Copyright
: 2011
Pages
: 144
ISBN
: 9781595827982
Publisher
:
Dark Horse
Author Website
:
janeyolen.com
,
www.rebeccaguay.com
Twitter
:
@DarkHorseComics
Format
: Hardcover
Rating
: 4/5 stars
Centuries ago, humans drove the last of the dragons from islands and took them as their own and built their homes and villages on the islands. Now, the last of the dragons, lost as an egg for two hundred years, has been born and it's up the the village healer's daughter and a would-be hero to devise a way to dispose of the dragon before it destroys the village.
I'm not going to lie. I felt bad for the dragon. It was only living it's life, doing what dragons do, eating the livestock and occasional villager, just making its lonely way on the island, and the villagers decide that it needs to be killed. Humans can be so pushy sometimes.
All kidding aside, the story is actually quite lyrical and Rebecca Guay's art is
gorgeous
. I don't think story would stand up nearly as well on its own if it wasn't for the art. This is neither a long nor challenging read, so I'd recommend it with 4 stars, if not for just the art alone.