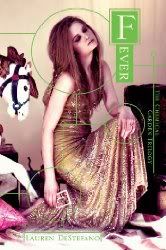 Title
:
Fever
Series
:
The Chemical Garden Trilogy
, Book 2
Author
: Lauren DeStefano
Copyright
: 2012
Pages
: 341
ISBN
: 9781442409071
Publisher
:
Simon & Schuster BFYR
Author Website
:
www.laurendestefano.com
Twitter
:
@LaurenDeStefano
,
@SimonTEEN
Format
: ARC provided from publisher
Available
: 2-21-12
Rating
: 5/5 stars
Product Description From Amazon:
Rhine and Gabriel have escaped the mansion, but they're still in danger. Outside, they find a world even more disquieting than the one they left behind. Determined to get to Manhattan and to find Rhine's twin brother Rowan, the two press forward, amidst threats of being captured again... or worse.

The road they are on is long and perilous—and in a world where young women only live to age 20 and men die at age 25, time is precious. In this sequel to Lauren DeStefano's harrowing Wither, Rhine must decide if freedom is worth the price—now that she has more to lose than ever.
I was lucky to receive a copy of Lauren DeStefano's
Fever
late last year, and read it in two sittings. If you haven't read
Wither
yet, the first book in
The Chemical Garden Trilogy
, quit reading this right now, go out and pick it up, as there may be spoilers ahead in this review. I'm not going to lie, I wasn't sure what to make of
Wither
when I read it (check out my review
here
), but
Fever
totally sucked me in and wouldn't let me go. DeStefano wastes no time in throwing us into the story and never lets us go until, literally, the
last word
of the book.
Rhine and Gabriel have successfully escaped the mansion and Vaughn, but is their newly won freedom worth the trials to come? It's really hard to write about
Fever
without giving anything away, but like
Wither
, I feel there is a lot of nothing going on here, but the difference is there seems to be a purpose to the nothing happening. Don't get me wrong; unlike
Wither
, where most of the action takes place in and around the mansion for the most part,
Fever
sends us on a non-stop journey with Rhine and Gabriel in search of Rhine's home and her twin brother, Rowan. OK, so I guess it's not a whole lot of nothing - there's a whole of everything happening in this story, but it's mostly in character and overall story development. We learn so much about both Rhine and Gabriel through their journey, and more about what Vaughn is up to, and even more how little Linden is in the dark about his father. With
Fever
, DeStefano really builds on every aspect of
Wither
and takes the story that much further.
In
Wither
, we get to see how the rich live and prosper in this society, and in
Fever
we really get to see how the other half lives. We got a taste of what it is like for the less-privileged in
Wither
, but this time around we are thrown full force into the the lives of those who are living on the outskirts of society, seeing how they get by day to day. It's a dark and gritty world that DeStefano has created, and one that feels very real and tangible.
I feel like I'm doing the book a disservice with this review, but in all honesty, I couldn't put it down. It's hard for me to quantify what it is that I like so much about the book. I think when I received
Wither
, I was expecting to dislike it. I don't know why that it is, but I think I went into the book thinking it wasn't going to be for me, so was surprised when I did enjoy it. Quite clearly it has something to do with DeStefano's writing. She creates a beautiful sense of imagery with her writing, so that even though her characters are living in a terrible world, we also experience those moments that really shine for them. Pick it up; you won't be sorry. I'm anxiously awaiting book three and seeing how this story ends, even though I'm going to miss it and the characters that inhabit the world.