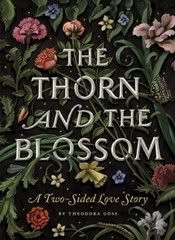 Title
:
The Thorn and the Blossom: A Two-Sided Love Story
Author
: Theodora Goss
Copyright
: 2012
Pages
: 82
ISBN
: 9781594745515
Publisher
:
Quirk Books
Audio Production
:
www.
Author Website
:
theodoragoss.com
Twitter
:
@quirkbooks
,
@theodoragoss
Format
: Hardcover (received from the LibraryThing Early Review program)
Rating
: 3.5/5 stars
The Thorn and the Blossom
is the story of Brendan and Evelyn, how they met, parted, met again and parted again. Doesn't sound like anything special, right? Well, you'd be wrong. The first thing that you will obviously notice with
The Thorn and the Blossom
is its unique design. It is printed in a "Unique Accordion-Fold Binding" (that's exactly how it reads on the cover). It book is slip-cased, and you can choose to read either Evelyn's or Brendan's story first, and when you finish with one story, you flip the book over and read the exact same story, only from the other person's point of view. The accordion printing gives it the illusion that the story is printed on one continuous sheet of paper, folded up.
As for the story, it's your typical story of boy meets girl, boy kisses girl, girl runs off screaming into the woods, boy meets girl again 10 year later, girl again runs away screaming. What's all the running away and screaming about? Well, that part's the mystery of this little gem of a book.
Normally, I wouldn't really be impressed at all with this story, as there's really nothing challenging about it in the slightest, but the book and the story itself are presented so cleverly, I totally overlooked that fact. Give it a try. It's cute, a little on the brain candy side, but you'll find yourself flipping the book back and forth, playing with the accordion layout.