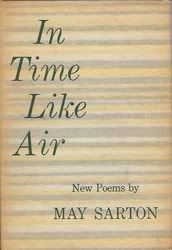 Title: In Time Like Air
Author: May Sarton
Copyright: 1958
Pages: 80
Publisher:
Rinehart & Co
Format: Hardcover
Rating: 4/5 stars
REFLECTIONS IN A DOUBLE MIRROR

There is anxiety hot in the throat,
The dark wood where even lovers get lost,
The axe held loosely, dangerous in the hand,
That might slip, those cloudy dreams of threat.
There is always ahead some next, more awful test,
Or again the bog, indifference, dragging quicksand;
There is the never-ending battle with
The unforgiven, unforgiving self for truth.
It may all prove untenable for lack of hope,
Something we cannot deal with or escape—

These are the things we lie awake to ponder.

There is in each of us a healing mother;
There is the hand cradling the axe, breaking
Dead wood down, held lightly with clean grace;
There is the help we can give each other,
And every morning, light at our first waking
As if each day a blessing did take place.
Despite all fumbles, bungling, we endure,
Manage to go on building the hard inner core,
A free self that might harbor faithful love.
There is more in us than we have learned to give.

These are the things we low awake to ponder.