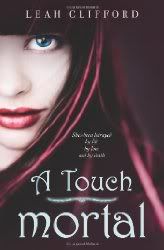 Title
:
A Touch Mortal
Series
:
A Touch Mortal
, Book 1
Author
: Leah Clifford
Copyright
: 2011
Pages
: 419
ISBN
: 9780062004994
Publisher
:
Greenwillow Books
Author Website
:
leahclifford.com
Twitter
:
@LeahClifford
,
@PitchDarkBooks
,
@HarperTeen
Format
: Hardcover
Rating
: 3.5/5 stars
I'm going to be right up front, there are probably going to be spoilers in this review, because I'm fairly sure I can't say a thing about this book without giving something away. Just an FYI.
In a couple of weeks, Leah Clifford will be hosting her InsaniTEA Party at my local bookstore for the release of the second book in her
A Touch Mortal
series,
A Touch Morbid
, so I thought I should probably get around to reading the first book. I picked up
A Touch Mortal
last year when Leah was at
Schuler Books
promoting the book. I had had every intention of reading it then, but for those following along, a lot happened between then and now, and I didn't, plain and simple. So I picked it up the other night and pretty much read it in two sittings.
It's a fairly quick read, which honestly surprised me. It was also easy to get into. I find that I have a hard time getting into the flow of a story with some books, but Leah seemed to make hers relatively easy, and I found myself reading along, enjoying where the story was going, even when it was becoming apparent what was going to be happening to out heroine, Eden. I feel like I should be up front with about what happens, because if someone is reading this who might have a problem with the subject, maybe this will give them fair warning. Eden commits suicide. She does this fairly early on in the book, after she met the love of her life, Az, an almost Fallen angel. Az is afraid that the Fallen are going to find out about Eden, and torture her to try to get Az to complete his Fall, so he plays a hand in her committing suicide, to protect her. This is where some will need to have a little suspension of disbelief, because that doesn't really sound like a win/win situation for Eden, does it?
Anyway, I was going with the flow of the story up to the point. Eden becomes a Sider. She is more or less alive again, but her entire mortal existence has been erased from the memories of everyone she knew. She'll live forever; and she now has Touch. What is Touch, exactly? I have no idea. I don't know if the characters know what it is. I don't even know if Leah Clifford knows what it is. This is where I started to dislike the book. A lot. This key element, Touch, is never really explained, unless I missed a big chuck of the story. Eden is told she has Touch, needs to pass off Touch to mortals so that it doesn't build up in her system, and she just accepts it and carries on. No explanation. No questioning what it it. She just accepts it at face value, and the readers are forced to accept it at face value because there is
never
an explanation. By the time I realized how much I was frustrated by this one lacking key explanation to a key plot point, I was well over half way through the book, so I figured at this point, it was a quick read, so maybe Clifford explained it by the end. Just for those keeping track, she doesn't.
However, at some point through the last 1/3 of the book, I discovered that I was really enjoying the story, was engaged with the characters, wanted to see how things were going to end with this book, questions about Touch be damned. I had already figured out some of the twists of the story and was fairly sure I knew why things were happening the way they were. My reservations and questions about the purpose of Touch aside, I really ended up finding that I enjoyed
A Touch Mortal
. I'm just hoping that these questions are answered in the next book.