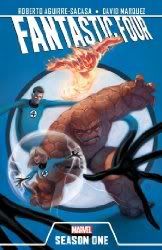 Title
:
Fantastic Four: Season One
Series
:
Marvel: Season One
Author
: Roberto Aguirre-Sacasa, illustrated by David Marquez
Copyright
: 2012
Pages
: 136
ISBN
: 9780785156413
Publisher
:
Marvel
Twitter
:
@marvel
Format
: Hardcover
Rating
: 4/5 stars
The Season One series of graphic novels seems almost pointless and necessary all at the same time. The purpose of the series is to update the origins of many of the iconic Marvel characters into a more modern day setting, which will probably be good for bringing in a younger generation of readers, yet any of us that have been reading the comics for any amount of time will probably already be familiar with these characters and their origins. Either way, Aguirre-Sacasa did an admirable job of keeping the original flavor of the FF's origin while still keeping it fresh. Marquez adds a nice, clean, modern look to the characters, but again keeps many of the elements that everyone is familiar with. I'll probably end up picking up subsequent Season One titles, just to see how they continue modernizing these characters.
I can almost see this as Marvel's answer to DC's The New 52, without the entire universal reboot; just retell the characters origins with a slightly more modern flair, but not actually getting rid of any of the history that is already present. Good job, Marvel!