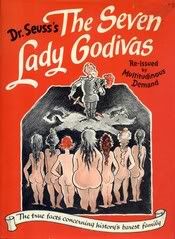 Title
:
The Seven Lady Godivas: The True Facts Concerning History's Barest Family
Author
: Dr. Seuss
Copyright
: 1939 (reissued edition copyright 1987)
Pages
: 70
ISBN
: 0394562690
Format
: Hardcover
Rating
: 5/5 stars
Here is the true story about the Godiva family, and the seven sisters who are each far too intelligent to waste time worrying about frivolous things like doing their hair, makeup, or you know, clothes. When their father is killed by a horse, they take it upon themselves to discover seven Horse Truths, one from each sister, before any of them will ever know true love. What follows is a clever, funny and sometimes touching story that is a little different from your average Dr. Seuss book.
I had first heard about the
Seven Lady Godivas
at the end of last year, after a visit to the
Museum of Science and Industry
in Chicago for an exhibit on the work of Dr. Seuss. This past Friday on Dr. Seuss' birthday, I came across
this link
with more information about the book, so on a whim thought I'd check Amazon to see if they had a copy, and much to my surprise, they had a used copy at a reasonable price, so I picked it up.
I found the book a little hard to read, only because it's a prose story, but I kept trying to read it in rhyme, since it is a Dr. Seuss book after all. There's nothing challenging here, although I found the Horse Truths to be very clever, and the illustrations range so far into the absurd that the nudity doesn't really come across as anything more than silly.
A fun little addition for a fan of Dr. Seuss, but probably nothing a general reader would find appealing.