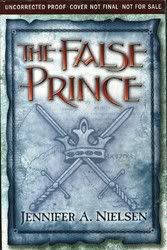 Title
:
The False Prince
Series
:
The Ascendance Trilogy
, Book 1
Author
: Jennifer A. Nielsen
Copyright
: 2012
Pages
: 342
ISBN
: 9780545284134
Publisher
:
Scholastic Press
Author Website
:
jennielsen.com
Twitter
:
@scholastic
,
@nielsenwriter
Format
: ARC from publisher for review -
no money or favors were exchanged
Available
: Now
I want to like this book. I really, REALLY want to like this book. But, I don't. I've been working on reading it for the better part of a month now, and I'm only 60-ish pages in, and I simply
do not care
what is happening in this story. The plot doesn't seem like it should be that challenging, and honestly, it isn't, but it's apparently not engaging enough to hold my attention for more than a chapter (if that) at a time. So, I'm setting it aside for the time being, moving on to other books, and I'm going to revisit this one again later in the year to see if I will like it more then.
SPOILERS
Basically, the entire Royal family has been killed, and an ambitious nobleman, Connor, has chosen three orphans, who have a passing resemblance to the long lost and thought dead prince, to be trained in the art of royalty in two weeks, so that one of them can be passed off as the missing prince and rule the country. Connor says he doesn't want anything more than to have his country ruled fairly, and he's not in it for selfish gain. And that's all I've got so far for 60-ish pages and almost a month of trying to read this book.
END SPOILERS
Obviously, from the fairly high ratings this book has everywhere, I am in the minority on not liking the book, but it is what it is. I really dislike writing this sort of review, but there are other books out there calling for my full attention right now.