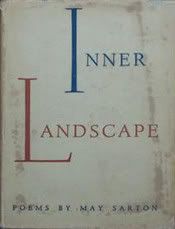 Title
:
Inner Landscape
Author
: May Sarton
Copyright
: 1939
Pages
: 94
Publisher
:
Houghton Mifflin Company, Boston
Format
: Hardcover
Rating
: 5/5 stars
ADDRESS TO THE HEART

You cannot go back now to that innocence—
the pure pain that enters like a sword
making the bright blood flow
and the slow perfect healing, leaving you whole.
This is a deeper illness,
a poison that has entered every tissue:
Cut off your hand, you will not find it there.
This must be met and conquered in each separate atom,
must be lived out like a slow fever.
No part is mortally afflicted.
Each part will have its convalescence surely,
and yet you will arise from this infection
changed,
as one returns from death.
Sarton's second book of poetry seems to suggest her later need of solitude and the sanctuary that that can entail for some people. The poems are still strong, though, but they speak to me of a need to center in on ones self and find the peace you are seeking in life there.