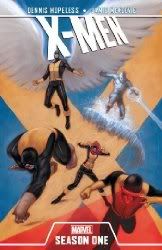 Title
:
X-Men: Season One
Series
:
Marvel: Season One
Authors
: Dennis Hopeless, illustrated by Jamie McKelvie
Copyright
: 2012
Pages
: 136
ISBN
: 9780785156451
Publisher
:
Marvel
Twitter
:
@marvel
Format
: Hardcover
Rating
: 2/5 stars
Not going to lie, I didn't enjoy this one nearly as much as I did
Fantastic Four: Season One
. Maybe it's because I'm far more familiar with the origin story of the X-Men than I am with the Fantastic Four, but some of the updates that were made to the main cast of characters in this volume just don't seem to mesh well in my mind with what has come before or since for them. Alas, not a great addition to the
Season One
books, as far as I'm concerned.