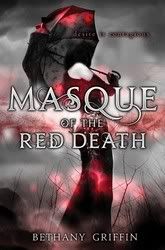 Title: Masque of the Red Death
Series: Masque of the Red Death, Book 1
Author: Bethany Griffin
Copyright: 2012
Pages:
336
ISBN:
9780062107794
Publisher: Greenwillow Books
Author Website:
bethanygriffin.com
Twitter: @_bethanygriffin
,
@HarperTeen
Format: ARC provided from publisher for review
Rating: 4/5 stars
Araby has lived the last couple of years of her life in a drug induced stupor, spending her evenings with her friend, April, at the Debauchery Club, a private club where you go to forget the outside world. And what's wrong with the outside world? First off is the plague called the Weeping Sickness, a silent killer that seems to eat away at a body until death. Secondly, Araby is trying to forget the death of her twin brother, Finn, whose death she feels responsible for due to an innocent mistake, and as a result, she has set herself with a promise to him, that she won't enjoy anything in life that he won't now be able to enjoy, which includes falling in love.

Araby's father invented a mask that can keep the wearer safe from the Weeping Sickness, but instead of making the mask available to all, Prince Prospero has turned the manufacture of the masks into a profitable venture, thereby preventing the lower classes from being able to afford masks and being at the mercy of the plague. Because of his invention, however, Araby's father and his family has been able to live in relative opulence, something else Araby carries guilt over. Quite frankly, felt there was a little too much guilt-ridden Araby going on in this book. Don't get me wrong, she's a fine MC, but I'll admit, I found April a sometimes more compelling character than Araby - I'd really like to see a story from April's POV sometime.

Araby eventually catches the eye of both Will, a bouncer at the Debauchery Club, and Elliott, April's older brother, each of whom are interested in Araby for far different reasons. Will sees her as a lost soul, someone that he would like to see rise above her self-imposed vow and begin to enjoy life again. Elliott wants to use her for far more seemly nefarious reasons, and while she doesn't entirely trust Elliott, she decides to help him. Enter the love triangle and most of the emotional impetus that is used on Araby for the majority of the second half of the book.

I've read in several places that Bethany Griffin's Masque of the Red Death is a retelling of Poe's classic tale of the same name, but I can't help but keep thinking of it as a prequel of sorts to Poe's story. Maybe it's just me, but Griffin's story seemed to be leading up to the events of Poe's, putting all the key elements of her story in place to get the key characters in Poe's story into their necessary places for his story. However you want to interpret Griffin's Masque, I recommend reading it. Griffin has created a very unique world, that somehow feels eerily familiar at the same time. The book is not really uplifting; the Weeping Sickness is very real in this world, and people die, frequently, from it. The one thing that Griffin does successfully in this book is create an atmosphere that is practically palpable. The feel of the crumbling city, the despair, the feeling of hopelessness is so well presented, as a reader, I felt a real creepiness from reading the book. However, the book carries, quite obviously, a lot of the tropes of current YA books, but still manages to tell a story that is unique unto itself. I just wish those tropes weren't always so obvious.