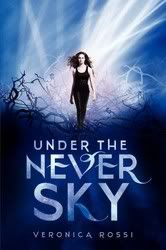 Title: Under the Never Sky
Series: Under the Never Sky, Book 1
Author:
Veronica Rossi
Copyright: 2012
Pages: 384
ISBN:
9780062072030
Publisher: Harper Teen
Author Website:
veronicarossi.com
Twitter: @HarperTeen
,
@Veronica Rossi
Format:
Hardcover
Rating: 4/5 stars
Veronica Rossi's
Under the Never Sky
is one of the latest "trendy" dystopian books to be hitting the YA market these days, but don't let that dissuade you from trying it out. It has all the familiar flavors: beautiful girl (Aria) discovers that even though her world is literally falling apart around her, there may be more to what she believes as the norm; she finds herself in a situation that pits her against the reigning governmental body; enter the hot guy (Perry) that will help her, reluctantly in this case, overcome all her obstacles; she may or may not fall hard for said hot guy, in the middle of trying to save the world/her family/herself; vague, cliffhanger-ish ending. What Rossi does do is whip all these familiar ingredients into something that, to me at least, felt fresh and new.
Aria's world is split into two distinct locales. There are the enclosed domes where Aria lives, where everything is controlled and there are no diseases and everyone is plugged into the Realms, virtual reality worlds that are supposedly more real than reality. Then there is the outside, where nature runs its course, and people live off the land and where some people have even developed more heightened senses to help them survive.
When Aria finds herself in the wrong place at the wrong time, she is exiled into the outside, or Death Shop, where she expects to die instantly from any number of diseases that she has been protected from by living in the dome. When she doesn't die from exposure, she is sure that she will die from the unpredictable, wild electrical storms that ravage the land, but is rescued by Perry. After they are thrust into a situation where they reluctantly need each others help, they begin to learn more about each other and begin to realize that they may have more in common than they ever expected.
I really liked the back and forth point of view shifts from Aria and Perry. Each chapter was told from one of their perspectives, and that made it nice to see the world as each of them saw it, and also how they looked at and thought about each other. I think this is one of the things that helps this book; so many of these books are told from just the female protagonists point of view lately, it was actually a fresh take to see it come from his point of view as well.
Rossi's worldbuilding, I felt, was strong enough to not require a lot of unnecessary explanation. The only thing that is more or less left for the reader to just accept as is are the electrical storms and aether. There isn't much in the way of any explanation as to what either these storms are or what they are composed of; however, I think this will probably be something that will be explained in one of the later books, as this is the first part of another trilogy. This is actually the only drawback for me on this book. Enough of the trilogies already! I'm on series overload. I'd really like one of these recent YA stories to be nothing more than a nice, little self-contained story, thankyouverymuch. That aside, Rossi is a strong storyteller and of course I'll be there, picking up the next book in the series when it is released next year.