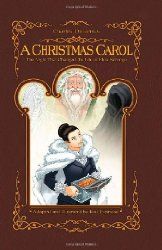 Title: Charles Dickens's A Christmas Carol: The Night That Changed the Life of Eliza Scrooge
Author: Adapted and illustrated by Rod Espinosa
Copyright:
2012
Pages: 99
ISBN:
9781595829917
Publisher:
Dark Horse Books
Author Website:Rod Espinosa
Twitter: @DarkHorseComics, @Rod_Espinosa
Format:
eBook provided through
NetGalley
for review
Available: October 3, 2012
Rating: 3/5 stars
Charles Dickens's A Christmas Carol: The Night That Changed the Life of Eliza Scrooge adapted and illustrated by Rod Espinosa is a rather straightforward graphic novel adaptation of Charles Dickens's A Christmas Carol, with the rather obvious change being that Ebenezer Scrooge is now Eliza Scrooge, running a textiles shop instead of a banker/solicitor. Why this change was made, I'm not entirely sure. When I read the premise, that Ebenezer was now going to be portrayed as Eliza, I assumed that there were going to be some significant changes to the story, but there aren't. I guess I think if you're going to make a change that significant, it should have some sort of ramification on how the story is told. I mean, if all you're doing is changing the gender, just stick with the original and Ebenezer. Maybe Espinosa like drawing women more?
That said, the art isn't bad. Espinosa has a nice clean style, reminiscent of an anime/manga look. I actually wouldn't be put off checking out some of his other works, but as far as this volume is concerned, it just didn't seem to be necessary to make such a drastic change.