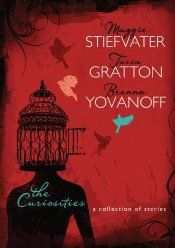 Title: The Curiosities: A Collection of Stories
Authors: Maggie Stiefvater, Tessa Gratton, and Brenna Yovanoff
Copyright: 2012
Pages:
304
ISBN: 9780761375272
Publisher: Carolrhoda Books
Author Website:
The Merry Sisters of Fate
Twitter: @CarolrhodaLab, @
msteifvater
,
@tessagratton
,
@brennayovanoff
Format:
Hardcover
Rating: 4/5 stars
The Curiosities
started out as a collection of short stories that
Maggie Stiefvater, Tessa Gratton, and Brenna Yovanoff
were writing on their blog, The Merry Sisters of Fate. I don't know that they even intended for these to be printed, but they were there for the public to read, for the three authors to practice and possible write things stories that were not their normal fare. However, what really makes this collection stand out, at least to me, is that each of the three authors were asked to go through and mark up a manuscript, jotting down their notes, thoughts, and critiques on their own and each others' stories. There are notes written to each other, little doodles, inside jokes, and other fun facts strewn throughout the stories. I had almost as much fun reading their notes as I did reading the stories.
Now, I have books by all three authors on my shelves, but I've never gotten around to reading any of them, but when Maggie Stiefvater was doing a signing at my local indie, Schuler Books, they had this for sale, and it seemed like such a clever idea of a book, I decided to pick up a copy. Needless to say, I know want to read at least one book by each of the authors by year's end. I so thoroughly enjoyed working my way through this collection that I would like to see what each author can do with a full length novel.
The stories in the collection are:
The Vampire Box by Tessa Gratton
A Murder of Gods by Maggie Stiefvater
The Power of Intent by Brenna Yovanoff
A History of Love by Maggie Stiefvater
Girls Raised by Wolves by Brenna Yovanoff
Date with a Dragon Slayer by Tessa Gratton
Scheherazade by Brenna Yovanoff
The Spiral Table by Tessa Gratton
The Madness of Lancelot by Brenna Yovanoff
The Wind Takes Our Cries by Maggie Stiefvater
Auburn by Brenna Yovanoff
The Deadlier of the Species by Maggie Stiefvater
Puddles by Tessa Gratton
The Bone-Tender by Brenna Yovanoff
Death Ship by Tessa Gratton
The Last Day of Spring by Maggie Stiefvater
Cut by Brenna Yovanoff
Philosopher's Flight by Maggie Stiefvater
Ash-Tree Spell to Break to Your Heart by Tessa Gratton
Rain Maker by Maggie Stiefvater
Dumb Supper by Tessa Gratton
Neighbors by Brenna Yovanoff
Council of Youth by Maggie Stiefvater
The Summer Ends in Slaughter by Tessa Gratton
Blue as God by Brenna Yovanoff
Thomas All by Tessa Gratton
Heart-Shaped Box by Maggie Stiefvater
Berserk by Tessa Gratton
Lazarus Girl by Brenna Yovanoff
Another Sun by Maggie Stiefvater
Nothing against the other two authors, but I think I found myself enjoying Yovanoff's stories the most. There was something about her writing and storytelling that just really clicked with me and I think I'd like to start one of her books sooner rather than later.
Overall, an excellent collection and highly recommended!