Title: The Pied Piper of Hamelin
Series: Folklore Mini-Series I
Authors:
Robert Browning, illustrated by Lorin Morgan-Richards
Copyright: 2012
Pages: 28
ISBN: 9780985044701
Publisher: A Raven Above Press, in conjunction with Rorshoq Books
Format: Hardcover, handmade using recycled bookbinding material
Rating: 5/5 stars
The Pied Piper of Hamelin is "the first in a series of miniature books that focus on original folklore classics" and the latest edition from Lorin Morgan-Richards' A Raven Above Press. The wonderful thing about Morgan-Richards' books is that they are all handmade originals. He creates each book individually, so each is unique in its own way. Quite frankly, as far as I'm concerned, his books are miniature works of art.
Lorin Morgan-Richards art reminds me of a modern day Charles Addams or Edward Gorey. He dabbles in the unusual and strange,
yet there's just enough of the
familiar in his artwork to keep it grounded. His artwork is perfectly matched to the tone of The Pied Piper of Hamelin, the familiar folklore tale of the strange Piper who comes to Hamelin to rid them of the rats that are infesting their town, and who then takes the children of Hamelin away with his magical, musical pipe after the townsfolk deny paying for his service.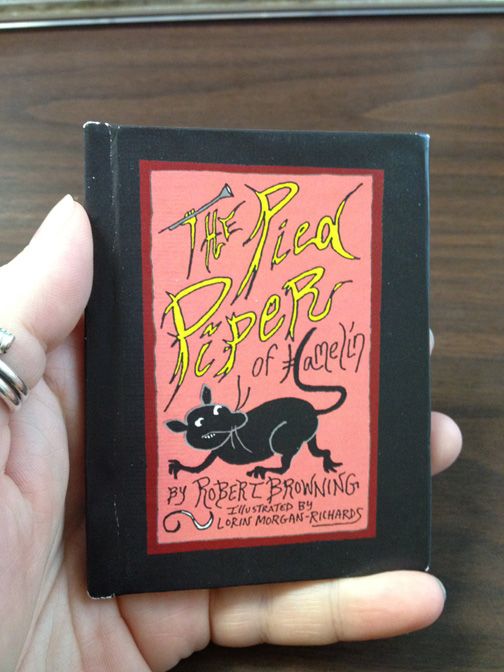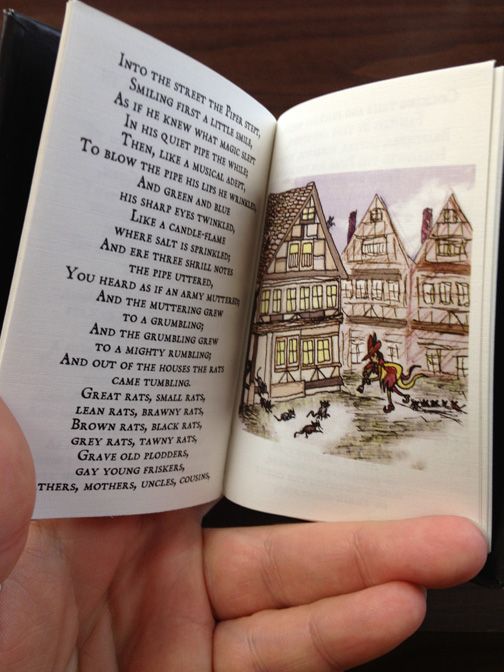 The book itself is rather tiny, measuring at just 4 inches tall and 3 inches wide, which really adds to its charm. I so thoroughly enjoy the books from A Raven Above Press, and I'm looking forward to future editions in the Folklore Mini-Series.