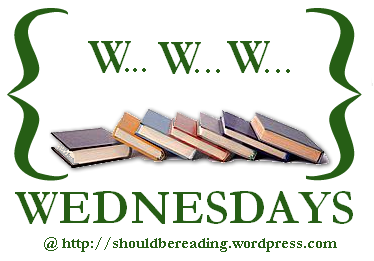 WWW Wednesdays is hosted by MizB at
Should Be Reading
who asks you to answer the following three (3) questions...
What are you currently reading?
What did you recently finish reading?
What do you think you'll read next?
What am I currently reading?
This week, I'm working on
Titus Groan
by Mervyn Peake, the first book in
The Gormenghast Trilogy
. It's the October selection for the book group that I belong to, and so far I'm really enjoying it. I'm about halfway through the book, and am planning on finishing it this weekend. (I know what you're thinking... This is the last day of October, what am I doing waiting until the first weekend of November to finish the October selection? Well, this book is a chunkster, and everyone in the group is running behind on this one, so we're all in the same boat together.) Peake was a contemporary with J.R.R. Tolkien and C.S. Lewis, but he just never became as popular in the US. There is so much character development at the beginning of this book, that I'm really not even sure what the story is really about, as I'm still being introduced to the characters. I'll post up a review next week when I finish it.
I'm also working on Deborah Harkness'
Shadow of Night
on audiobook right now. I am so thoroughly enjoying Harkness' books. This book deals with time travel, and while this can be a tricky subject sometimes, Harkness is dealing with it very well. I also love her characters. She does such a great job fleshing out her characters! The audiobook is read by Jennifer Ikeda, who did a superb job with the audiobook of
A Discovery of Witches
, and I wanted to continue listening to the series based on her performance alone. If you enjoyed
A Discovery of Witches
, I'd highly recommend continuing with
Shadow of Night
. It picks directly up where
Discovery
ends, and deals with Diana and Matthew's journey to London, 1590. Highly recommended!
What did I recently finish reading?
I just finished Joyce Carol Oates'
Zombie
this morning, and all I can say is what an extraordinarily disturbing book! Told from the point of view of a serial killing sexual deviant, the book is not necessarily easy to read, and Oates does a good job at making the reader feel uncomfortable with not only the content of the story, but with the actual act of reading the story. Written in broken sentences and structures, we are seeing the world through the eyes of Q__ P__, and the world through his eyes is not a very pretty place. Recommended, but not for the squeamish.
I also recently finished with Ransom Riggs'
Talking Pictures: Images and Messages Rescued from the Past
. This is a collection of photos found at rummage sales and garage sales, and the captions that accompany them. Some are funny, some are touching, and all shine a light on times long past, even though we really have no frame of reference to what's going on with the photos, who they are of, or who they were supposed to be for.I really enjoyed this book and would look forward to another such volume from Riggs in the future.
What am I reading next?
To be honest, I'm not really sure what I'm going to be reading next. I've got quite a pile on TBR sooner rather than later books, so I think I'm just going to blind-grab something out of the pile and surprise myself! Happy reading!
To purchase any of the books in this post, and help my local Indie bookstore, and help me buy more books, click the links above!