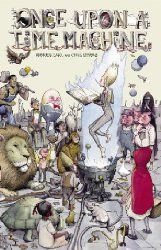 Title
:
Once Upon a Time Machine
Authors
: Andrew Carl (Editor), Lee Nordling (Author), Jason Rodriguez (Author), Tara Alexander (Author), Various writers (Author), Charles Fetherolf (Author), Chris Stevens (Author), Khoi Pham (Illustrator), Nelson Evergreen (Illustrator)
Copyright
: 2012
Pages
: 432
ISBN
: 9781616550400
Publisher
:
Dark Horse
Format
: eBook received for review from
NetGalley
Rating
: 4/5 stars
Once Upon a Time Machine
is a collection of fairy tales that we're all familiar with, set in time periods that are unfamiliar to these stories. Each of the fairy tales holds true to its origins, but they are retold in a a whole new fashion, with each of the tales taking on a science fiction flare. Told by some of the new, up and coming writers and illustrators in the comics business, these fairy tales are both familiar and fresh at the same time.
I wouldn't recommend reading them all at once. Take your time reading the tales, as rushing through them (like I did, unfortunately, for the first half of the book) seems to take something away from the. It's when I would read one or two and set the book down that I was able to really appreciate the storytelling that went into the retelling of the fairy tales. I'd have to say my favorite of the tales is actually the first story in the collection,
Pinocchio
. It really keeps the innocence of Pinocchio intact while transporting him to an entirely new time.
Recommended for fans of fairy tale re-imaginings.
To purchase any of the books in this post, and help my local Indie bookstore, and help me buy more books, click the links above!