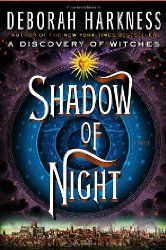 Title
:
Shadow of Night
Series
:
All Souls Trilogy
, Book 2
Author
: Deborah Harkness
Narrator
: Jennifer Ikeda
Copyright
: 2012
Pages
: 592
ISBN
: 9780670023486 (Audio 9781611760705)
Publisher
:
Viking
Audio Production
:
Penguin Audio
Author Website
:
deborahharkness.com
Twitter
:
@DebHarkness
,
@VikingBooks
,
@PenguinAudioUS
Format
: Audiobook
Rating
: 4/5 stars
OK, so I may not have gotten around to reviewing
A Discovery of Witches
yet, but I really do love that book. I love the pacing, the characters, the world building, everything about the book. I had taken quite a while to get around to reading it, despite the pressure from some friends to get to it sooner than later. I decided the best way to do this was to get the audiobook, and I'm so glad that I did. Jennifer Ikeda does a fantastic job on the audio; as far as I'm concerned, hers
is
Diana's voice. When
Shadow
became available at my library, I jumped at the chance to check it out.
Harkness doesn't waste any time throwing us into the story, with this book picking up directly where
Discovery
leaves off. It opens with Diana and Matthew arriving in 1590s England, and a good portion of the beginning of the book deals with Diana adjusting to her new situation. Eventually, she adjusts to the time period, being able to somewhat pass herself off as a lady if the time. During this period, however, one of my main complaints in the story begins to build, and that is just how well connected Matthew is in this time. He seems to know everybody, from Shakespeare to the Queen, and everybody in between. He seems to be involved in every secret society, attached to several government bodies in some sort of secret capacity, and Harkness doesn't mind reminding the reader of these facts at every turn. After awhile, I just wanted to yell at the book, "I get it. He's important. Move the story along." It just seemed like a bunch of name dropping to me after awhile.
Eventually, we get past all the connecting and name dropping and adjusting to life in the 1590s and the story is able to move along. I liked how Harkness handled their time traveling, with the choices Diana and Matthew make affecting how the future changes in small, seemly insignificant ways, unless those in the present know what is happening and know what to look for. I thought this was a clever way of handling their traveling back to the past.
Diana learns about herself as a witch and what exactly her powers may be, and how to control those powers. This, in my opinion, was the best bit of the book. The character of Goody Alsop is also my favorite new character in this book, and if really like to see a book all her own someday. I think her story deserves telling.
I don't want to give too much more away, as it's too easy to get too spoilery with the story, but eventually Diana and Matthew do make it back to present day after a few more (some surprising!) adventures in 1590s Europe. However, there was something about the end of the book that just didn't sit well with me, and I haven't been able to put my finger on it. I thought it had to do with Diana and her reaction to leaving London after having only been there less than a year, and how hard it was to say goodbye to the people she met there. I thought maybe she became a little too attached to the era too quickly, but I'm not sure that's what it is. Don't get me wrong, the book is still fantastic, but it left me wanting just a little more than
Discovery
did. Of course, I'll be picking up the final book in the series, and will probably be looking out for anything else Harkness writes in the future.
Recommended, especially on audio.
To purchase any of the books in this post, and help my local Indie bookstore, and help me buy more books, click the links above!