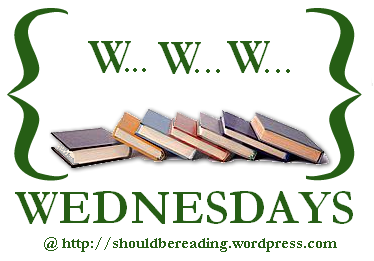 WWW Wednesdays is hosted by MizB at
Should Be Reading
who asks you to answer the following three (3) questions...
What are you currently reading?
What did you recently finish reading?
What do you think you'll read next?
What am I currently reading?
And.... I'm
still
working on
Titus Groan
by Mervyn Peake. This is a very slow going book. I'm enjoying it, but can only read chunks at a time, as it's a very densely written book. I'm hoping that I can just hunker down this weekend and finish it up. I've got other books calling my name!
I started listening to Anne Rice's
Angel Time
, and seriously, I don't even know if I'm going to be able to finish it. I'm about halfway through the book, and nothing has happened yet. Nothing. The audiobook only takes up 7 CDs and I'm just finishing up CD 3, and I don't feel like I'm any more vested in the story than I was just looking at the CD cover at the library. I don't know. It's so short, I'll probably stick with it, but I'm not impressed. The book is about a serial killer, Lucky the Fox, who I'm assuming is unknowingly working for the devil, and a seraph has come to him to try to lead him away from the life he's currently living. That's basically all I've gotten out of the book so far.
I picked up Philip Pullman's
Fairy Tales from the Brothers Grimm: A New English Version
yesterday, and I think I'm going to work on one fairy tale at a time in this one. They are fairly short, so this won't be a problem. What I especially love about this book is after each fairy tale, Pullman also gives a short history of how the Brothers Grimm discovered the tale, and also how similar tales turn up in other cultures. For fans of fairy tales, I'd highly recommend this book!
What did I recently finish reading?
I read the collected edition of the
Avengers vs. X-Men
storyline from Marvel comics. Some of their stories have been a little scattered lately, but I really think Marvel got this one right. Naturally, there was some points to the story that I felt jumped around too much (I actually think this story would have benefited from a couple more issues), but overall I really enjoyed this story. It brought back one of my favorite aspects of the Marvel universe, the Phoenix force, so that was a definite plus for me. I'll be interested to see where the events of this story take the rest of the characters in the future.
What am I reading next?
My local Indie
Schuler Books
is hosting
Cherie Priest
as part of her tour to promote
The Inexplicables
, and I know I said last week that I was going to get around to reading this, but I've been busy with life, so I'm putting it off until this weekend.
Well, that's it for this week. Thanks for stopping by and happy reading!
To purchase any of the books in this post, and help my local Indie bookstore, and help me buy more books, click the links above!