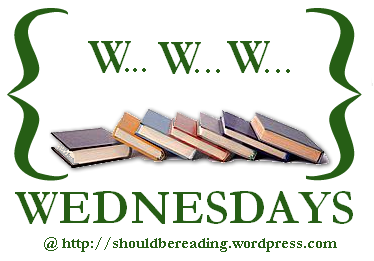 WWW Wednesdays is hosted by MizB at
Should Be Reading
who asks you to answer the following three (3) questions...
What are you currently reading?
What did you recently finish reading?
What do you think you'll read next?
What am I currently reading?
First off, what happened to the last week? I've barely read anything. What did I do the last week, you ask? Good question! The week apaprently just got away from my. I'm
still
working on
Titus Groan
by Mervyn Peake, the first book in
The Gormenghast Trilogy
. For those that asked last week, even though the majority of the beginning of the book is one big character introduction/study, I am enjoying it. It's very wordy, so it's not necessarily a breeze to read through, but I'm determined to stick with it and finish it!
My next audiobook selection is going to be Anne Rice's
Angel Time
. This is a fairly short book, which equals a fairly short audiobook, so I think I should be able to zip through this one fairly quickly. I won't be starting this one until tomorrow, so I don't really have anything to say about the story yet, but I'll hopefully be able to get it finished and reviewed by next week.
What did I recently finish reading?
I finished Deborah Harkness'
Shadow of Night
on audiobook. I ended up enjoying this one as much as
A Discovery of Witches
, but at some point along in the book, I was beginning to wish that the story was moving along just a little bit faster, and there were a few things that I didn't think held together all that well.
**spoilers!!**
For instance, at some point at the beginning of the book, it comes to light that Matthew is a member (and usually a high ranking member) of just about every secret society that you could find in 1590s London. At some point, even with a pretty heft suspension of disbelief, this began to feel a little forced. At some point, I just wanted to scream at the book, "I get it! He's important! He's got even more secrets than I knew about in the first book! Let's move along now!"
**end spoilers**
Other than a few instances such as that, I thoroughly enjoyed the book. I love her character development (I particularly liked Goody Alsop. I'd like to see a book all about her!), and am looking forward to see how she's going to tie up all the plot threads she has going in the final book.
What am I reading next?
My local Indie
Schuler Books
is hosting
Cherie Priest
as part of her tour to promote
The Inexplicables
, and I am thrilled to finally be able to meet her. (I'll have met both of my two favorite Steampunk authors now this year, having met Gail Carriger earlier in the year.) I have all of her books, so am looking forward to getting
everything
signed! So, in anticipation of the event, I'm going to be working my way through her books that I haven't read yet, and up first is her Southern Gothic ghost story, the
Eden Moore
trilogy, the first book of which is
Four and Twenty Blackbirds
. I've read this one before, but it's been quite some time, so I'm going to start at the beginning to make sure I remember everything that happened. If I remember correctly, this was a fairly quick read, so I don't think I'll have any trouble getting through at least this series before her signing.
Well, that's it for this week. Thanks for stopping by and happy reading!
To purchase any of the books in this post, and help my local Indie bookstore, and help me buy more books, click the links above!