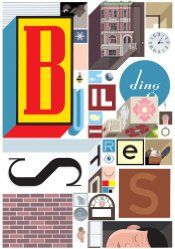 Title
:
Building Stories
Author
: Chris Ware
Copyright
: 2012
Pages
: 260 (according to
Goodreads
)
ISBN
: 9780375424335
Publisher
:
Pantheon
Twitter
:
@PantheonBooks
Format
: Various presentations in a boxed set
Rating
: 5/5 stars
Chris Ware's
Building Stories
is a graphic novel presented in a boxed set of 14 connected but not connected stories, told through various types of formats. In the box you will find pamphlets of various sizes, a book that resembles an over-sized Golden Book, a couple of softcover books, one clothbound hardcover book, a newspaper, a board that resembles the board from a board game, and a handful of other layouts. Not one of these needs to be read in order as you find them in the box (even though that's how I read it), but as you read them, they all find a way to interconnect to tell a story greater than their individual parts, hence you're building the story.
Building Stories
is the story about a three-flat apartment building in Chicago and the people that live there: the elderly landlady, the married/possibly not married couple on the second floor who never seem to be happy with each other, and an amputee who lives on the third floor, and chose to live there as a means of getting exercise due to her lost leg. There is nothing fanciful in these people's stories; there is nothing idyllic about their lives. If anything, this is the only complaint that I have with the story as a whole: nobody ever really seems to be happy. I know that Ware is trying to show people and their real lives, but as I finished reading, I was filled more with a morose feeling than anything else. Don't get me wrong, the emotions that Ware is able to pull from his simplistic art and bare dialogue is astonishing, I guess I just wish there was something of a "happy ending" in the book, even though there is no true ending per se. We see certain parts of the character's lives, but like any life that we witness from the outside, I still think there is so much more to the characters than what we have been shown. We are presented with snippets of their past and present, but we don't really know what their future holds, much like any person that we may know. I think I would be interested to see Ware revisit these characters in a couple of years, and show us where their lives took them.
I'm torn on whether I want to read anything else by Ware. There was such a pervading sense of melancholy throughout the entire collection, I don't know that I would trust anything else of his to not have that same feeling throughout. Yet, he presents these emotions so well that I think it would be a shame not to read something else of his again sometime. Maybe I just need to give myself some time to absorb everything from
Building Stories
before I move on to anything else of his, as I think this story is going to stick with me for some time.
To purchase any of the books in this post, and help my local Indie bookstore, and help me buy more books, click the links above!