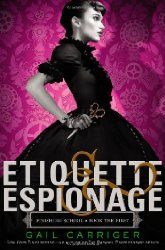 Title
:
Etiquette & Espionage
Series
:
Finishing School
, Book 1
Author
: Gail Carriger
Copyright
: 2013
Pages
: 320
ISBN
: 9780316190084
Publisher
:
Little, Brown and Company
Author Website
:
www.gailcarriger.com
Twitter
:
@gailcarriger
,
@littlebrown
Format
: ARC paperback
Available
: February 5, 2013
Rating
: 4.5/5 stars
I have been a huge fan of Gail Carriger since I first read
Soulless
several years ago, and have been following her
Parasol Protectorate
series. (Full disclosure here: I haven't
actually
finished the final book,
Timeless
, as I really don't want the series to end.) When I heard that she was going to be writing a YA series set in the same universe, I was thrilled. When I was given an opportunity to read an ARC of the book, I was beyond thrilled. I'm happy to report that Ms. Carriger has not let me down with this new series.
Sophronia Angelina Temminnick is, by all accounts, a tomboy in an era when such shenanigans by a female is frowned upon, at the very least. She likes to see how things work, she likes to be active, and she could care less about the finer points of civilized, ladylike behaviour. All in all, she's the bane of her mother's existence. Enter Mademoiselle Geraldine's Finishing Academy for Young Ladies of Quality. Sophronia's mother is hoping that sending Sophronia off to finishing school will help curb some of her more unappealing attributes.
Unbeknownst to her mother, Mademoiselle Geraldine's is not your typical finishing school, for Mademoiselle Geraldine's teaches its girls not only the finer points of ladylike behaviour, but also the finer points of subterfuge, seduction, poisoning, and various other talents necessary to a successful life of espionage. At first, Sophronia does not want to go to finishing school, until she discovers the underlying nature of Mademoiselle Geraldine's and finds that her particular skills help her to fit right in at the school.
One of the things that I liked most about
Etiquette & Espionage
is how Ms. Carriger works it into her preexisting universe. Taking place roughly 25 years before the events of the
Parasol Protectorate
, we find ourselves meeting the younger versions of some of the characters we're already familiar with. (I won't tell you who, as that's part of the fun!) I was curious how/if Ms. Carriger was going to tie these two series together, and I think she did an admirable job. If you come to
Etiquette & Espionage
already familiar with the
Parasol Protectorate
series, you'll find yourself recognizing some of the characters. If
Etiquette & Espionage
is your first outing with Ms. Carriger's characters, these younger versions stand perfectly well on their own, and you can use this book as a gateway drug into the more sophisticated world built in the
Parasol Protectorate
.
This draws me to the only fault I have with the book. The
Parasol Protectorate
is so witty and clever and sophisticated in so many ways, and knowing how Ms. Carriger is able to write, to see her scaling back on her sophistication to make it more palatable for a YA audience took me aback a little. I'm not even quite sure that that's the best way to put it. I can see all the hallmarks of her usual cleverness, but somehow it just didn't seem to hit the mark every time, and the book did seem rushed sometimes, as if she were forcing it to be shorter. Now, don't get me wrong, I was giggling through almost the entire book, but it did seem to be lacking something. Perhaps, being Ms. Carriger's YA debut, she needs time to grow into her YA voice, to get the pacing down and learn how to write a shorter story. I don't know. Maybe I'm analyzing too much. You can be sure that this one little thing won't be keeping me from picking up the rest of the series as it is released.
So, in my opinion, Ms. Carriger has proven that she can hold her own as a YA writer as well as an SciFi/Fantasy writer, and while there is the argument that there might a little room for improvement, she hasn't disappointed this reader at all. If you are a fan of the
Parasol Protectorate
, or are curious about Ms. Carriger's writing, I wholeheartedly recommend
Etiquette & Espionage
!
Etiquette & Espionage
will be available from Little, Brown & Company on February 5, 2013.
To purchase any of the books in this post, and help my local Indie bookstore, and help me buy more books, click the links above!