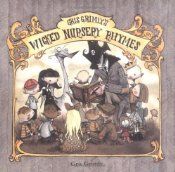 Title
:
Gris Grimly's Wicked Nursery Rhymes
Author
: Gris Grimly
Copyright
: 2003
Pages
: 32
ISBN
: 9780972938877
Publisher
:
Baby Tattoo Books
Author Website
:
Mad Creator Productions
Twitter
:
@GrisGrimly
Format
: Hardcover
Rating
: 4/5 stars
I do love Gris Grimley's art, and his
Gris Grimley's Wicked Nursery Rhymes
is no exception. Here, Grimley takes familiar nursery rhymes such as "Little Miss Muffet" and "Jack Be Nimble" and turns them upside down, giving them a decidedly darker and twisted flavor. His accompanying illustrations are just as deliciously dark and twisted. These are definitely not your childhood nursery rhymes, but are perfect for anyone who enjoys things just a little bit macabre.
To purchase any of the books in this post, and help my local Indie bookstore, and help me buy more books, click the links above!