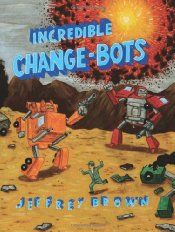 Title
:
Incredible Change-Bots
Author
: Jeffrey Brown
Copyright
: 2005
Pages
: 144
ISBN
: 9781891830914
Publisher
:
Top Shelf Productions
Author Website
:
www.jeffreybrowncomics.com
Twitter
:
@topshelfcomix
Format
: Paperback
Rating
: 3/5 stars
I'm almost embarrassed to say this is my first book of the year. I bought this sometime during the last couple of years, it got shuffled into a box during a move at some point, and I just found it again the other day. Basically, it's nothing more than one big parody of Transformers, especially the original 80s cartoon. It's not a great parody; it's not a terrible parody. There are some genuinely clever riffs on the original 80s cartoon, but it feels like it gets too bogged down in its own cleverness in other parts of the book. I personally can't see anyone who wasn't a fan of the cartoon from the 80s appreciating this at all, and even then it's more or less just a middle of the road caricature.