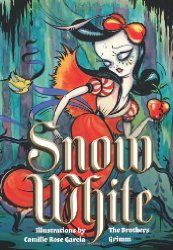 Title
:
Snow White
Authors
: The Brothers Grimm, illustrated by Camille Rose Garcia
Copyright
: 2012
Pages
: 80
ISBN
: 9780062064462
Publisher
:
HarperDesign
Illustrator Website
:
www.camillerosegarcia.com
Twitter
:
@harperdesignbks
,
@camillergarcia
Format
: Hardcover
Rating
: 5/5 stars
I'm fairly certain everyone is familiar with the story of Snow White, so I'm not going to go into details about the story. What I am going to tell you, though, is you should go pick up this edition of
Snow White
! Right now!!
Camille Rose Garcia's art is so visually striking and unique, and the typographic design of the book really works with her art style to create something rather beautiful. I was first introduced to her style when I picked up the edition of Lewis Carrol's
Alice in Wonderland
that she illustrated a couple of years ago, and fell in love with her work then. I was thrilled when I found this new volume of
Snow White
at my local bookstore the other day, and am really hoping that she continues this partnership with HarperDesign and continues to illustrate more classic fairy tales. One book I'd particularly like to see in her vision is
The Wizard of Oz
. I'd be willing to bet she could create a truly stunning version of Oz and its inhabitants.
Check out the YouTube link above for some examples of Garcia's artwork and watch as she brings some of her illustrations for
Snow White
to life!
To purchase any of the books in this post, and help my local Indie bookstore, and help me buy more books, click the links above!