"Waiting On" Wednesday is a weekly event, hosted by
Breaking the Spine
, that spotlights upcoming releases that are eagerly anticipated.
My "can't-wait-to-read" selection for this week is: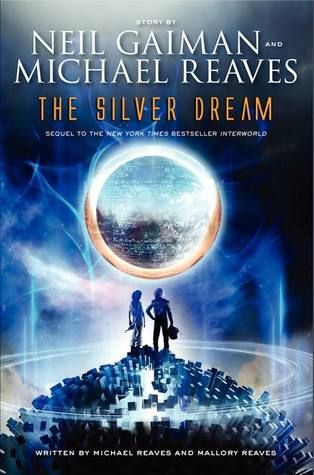 The Silver Dream: An InterWorld Novel
by Michael Reaves and Mallory Reaves, based on a story by
Neil Gaiman
&
Michael Reaves
Product Description:
New York Times bestselling authors Neil Gaiman and Michael Reaves deliver a thrilling sequel to the science fiction novel InterWorld, full of riveting interdimensional battles and alternate realities.

After mastering the ability to walk between dimensions, Joey Harker and his fellow InterWorld freedom fighters are now on a mission to maintain peace between the rival powers of magic and science who seek to control all worlds.

When a stranger named Acacia somehow follows Joey back to InterWorld's base, things get complicated. No one knows who she is or where she's from—or how she knows so much about InterWorld.

Dangerous times lie ahead for Joey and the mission. There's a traitor hidden among them, and if Joey has any hope of saving InterWorld, the multiverse, and the mission, he's going to have to rely on his wits—and, just possibly, on the mysterious Acacia Jones.

With a story conceived by Neil Gaiman and Michael Reaves and written by Michael and Mallory Reaves, this mind-bending follow-up to the exciting science fiction novel InterWorld is a compelling fantasy adventure through time and space, in which the future depends on a young man who is more powerful than he realizes.
I thoroughly enjoyed
InterWorld
when I read it a couple of years ago, so I'm hoping that
The Silver Dream
will be just as enjoyable. I'll have to go back to read
InterWorld
, since I'll admit I don't actually remember all that much about it, but since I remember I liked it, I'm hoping that still holds true now.
The Silver Dream: An InterWorld Novel
will be released in April, 2013 from
HarperTeen
.
Want to preorder a copy of the book? Just click here!